Big Krit Quotes – Big Krit is a rapper of America. He is also a record producer. Big Krit was born in Mississippi. In 2005 he started his music career. Big Krit also sings with Def Jam Recordings.
During singing with Def Jam Recordings, he released the song with the name of Country Shit. This song makes Big Krit famous everywhere. The song CountryShit was featured by Bun B and Ludacris.
In 2012 the first debut studio album of Big Krit was released. The name of this album was "Live from the Underground." It was on number five at the BillBoard 200.
The second album of Krit was released in 2014. The name of this album was "Cadillactica." This album also peaks at number 5. Big Krit inspired many people with his wonderful journey. For you, we have some famous Big Krit quotes.
Most Famous Big Krit Quotes
1.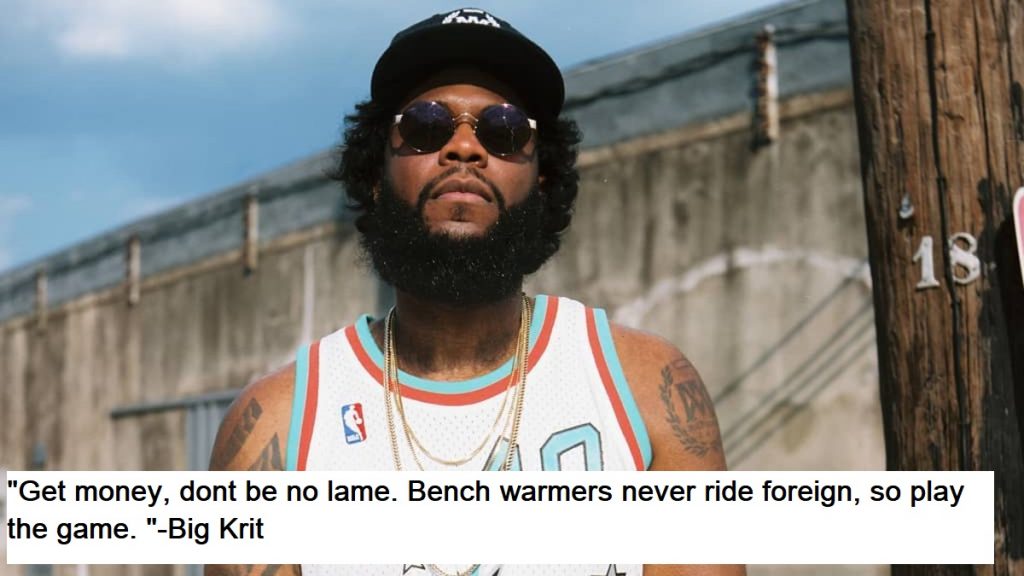 2."The more you walk with God, the harder it is to scrape your knee."-Big Krit
3."I remember when I fell from my first bike: There were no 'Are you okays?' and rarely 'Are you alrights?'"-Big Krit
4."Just dirt in my pockets, handful of gravel…That's when I realized that getting up is only half the battle."   -Big Krit
5."Too much shine, can dull the soul."   -Big Krit
6."There ain't no time to be wasted, the world is going under… Nowadays, can't tell Fall from Spring, and Winter from Summer."-Big Krit
7."My conversations with God always seem leave him speechless."-Big Krit
8."If it don't touch my soul then I can't listen to it."  -Big Krit
9."Thank God for the day. Thank God for the morning."-Big Krit
10." Won't take this here for granted; no, good Lord, I gots to get on it."  -Big Krit
11."They love the fact you made it, but hate the fact you got it."-Big Krit
12."The stairway to heaven is packed…I'm in the lobby."-Big Krit
13."Too scared to go to sleep, cause most times I often doubt my dreams."   -Big Krit
14."If I abuse myself daily, who can I love?"-Big Krit
15."The only difference between a winner and a loser is a winner plays until he wins."-Big Krit
16."Looking back on all the things I went through to get here. It was all worth it. It's a blessing that I can write about it all."  -Big Krit
17."I pay homage and respect to Bobby Womack [for Black History Month] knowing that he passed last year… Him being one of those artists that I have really sampled so much and just been so inspired by… You know, he is the original 'soul man.'"   -Big Krit
18."Obama cool, but he ain't sending me no free checks."-Big Krit
19."I'm still trying to do me and just make good music and quality music, music that you can feel."  -Big Krit
20.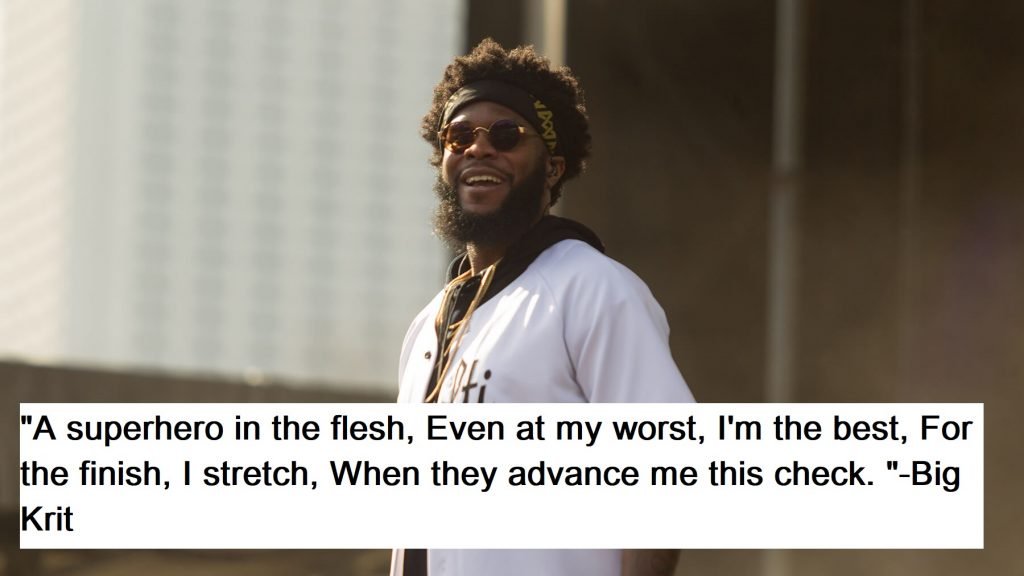 21."I started making my own beats because I just couldn't afford to pay for the other ones."-Big Krit
22." Like it was 1986, yeah I'm back bitch. Big money, subwoofer, Randy Savage. "-Big Krit
23."If you never been to the top it's something that you gotta see." -Big Krit
24."I defy gravity Flyer than I half to be. "-Big Krit
25. "Tell all them haters congratulate us or fall back."-Big Krit
26."And they wonder why we bang. Cause police do the same, that's the only rival gang. "-Big Krit
27."Money comes and it goes 'til family's all I got left. I'm seeing my growth, but I'm still from myself."-Big Krit
28."I came out my mommas womb breathing life into this pimpin."-Big Krit
29."My bitch like Scar's, gave the Louis rag to her. "-Big Krit
30." I just wanna do some right with the ones I was dealt. My pride might be my downfall, but I ain't asking for help."-Big Krit
31."Did too much dirt to talk to god nowadays- get the dial tone." -Big Krit
32."Said that I should cut my grass cause I'm surrounded by snakes. Not sure if that was metaphoric or if he had seen one today." -Big Krit
33."I'm doing the norm and not what it takes. I'll keep folding my cards and you'll keep raising the stakes. "-Big Krit
34." He looked at me with so much pain in his eyes like he aint know: Being black and poor came with a price."-Big Krit
35.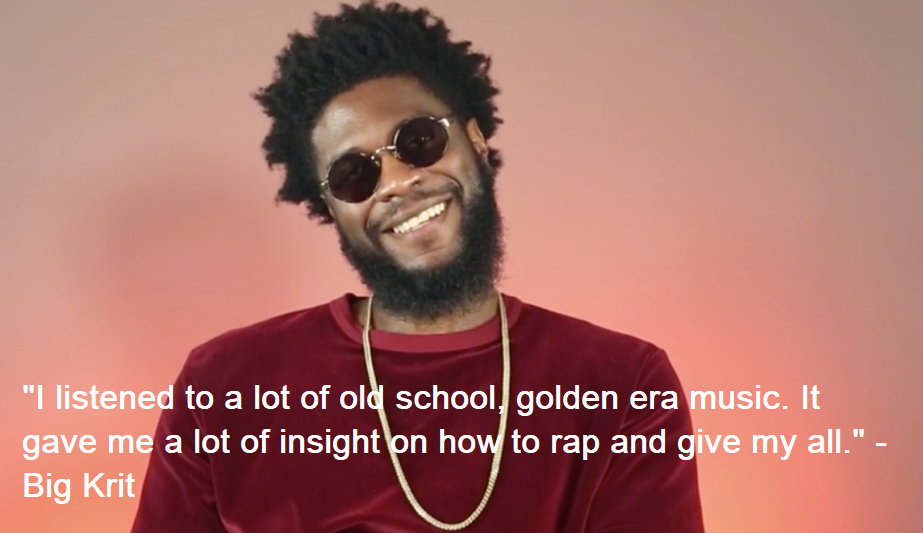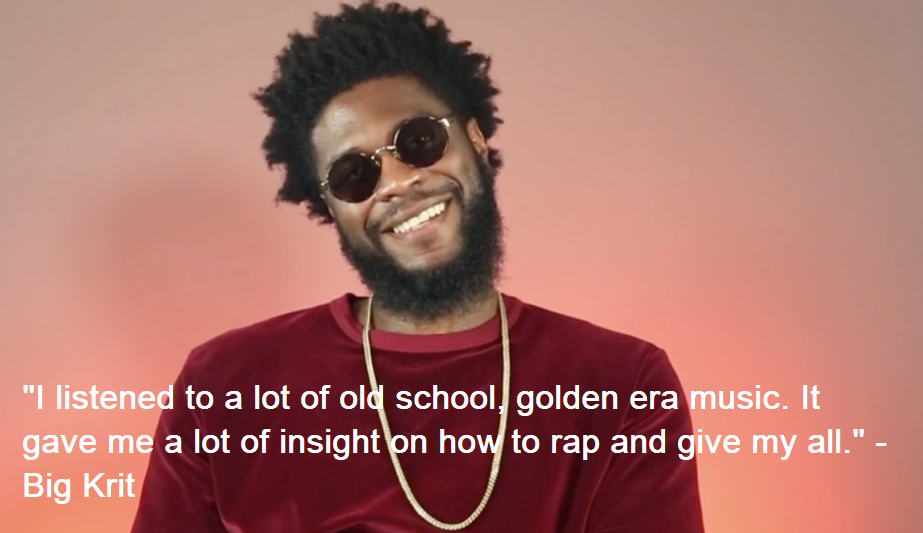 36."Imagine how you'd feel to know you work hard, and you educated and they treat you like you never made it. "-Big Krit
37."Ain't nothing for free so get your ass up. My partner said if we dont speed then they might pass us."-Big Krit
38."Fresh than a motherfucker I knew what it took. The thing that I'm giving you couldn't get out a book. "-Big Krit
39."Just be aware that everybody ain't your friend. Theyll be gone with the wind once your jump shot dont go in."-Big Krit
40."It's late but I'm out on the creep. It's been a while since I heard you speak. Hard to rest when I've been on this road. All I want is you next to me because you help me sleep. "-Big Krit
41."He say, she say, rumors all day. The rap game is high school, and life's a hallway. "-Big Krit
42."At the end of days, bills to pay. If it's a white man's world, am I still a slave. "-Big Krit
43."It was 1986, coldest year ever. Mama coulda cut me out the womb but she knew better. "-Big Krit
44."How could I judge when in this world we both some niggas and we both some killers, and we both some thieves. Only God can save us all what he spoke to me." -Big Krit
45."In the neighborhood package store. Mixing the good with the bad. Which flavors of life's labor have you had? "-Big Krit
46."Back on my grind again, wasting no time again. Putting it on the line, been losing I'm tryna win. "-Big Krit
47."Pass the collection plate, niggas thought shit was gone change on election date. "-Big Krit
48."Some say that I switched up but most of them niggas done bitched up. If you ain't 'bout your own people, what you gon' raise your fists for?" -Big Krit
49."And I just want to be fly. What good is a degree when there's no jobs to apply? And fast food won't do 'cause you overqualified. "-Big Krit
50."Put God first and free your soul. Cuz even Olympic runners sometimes lose their gold. "-Big Krit
51.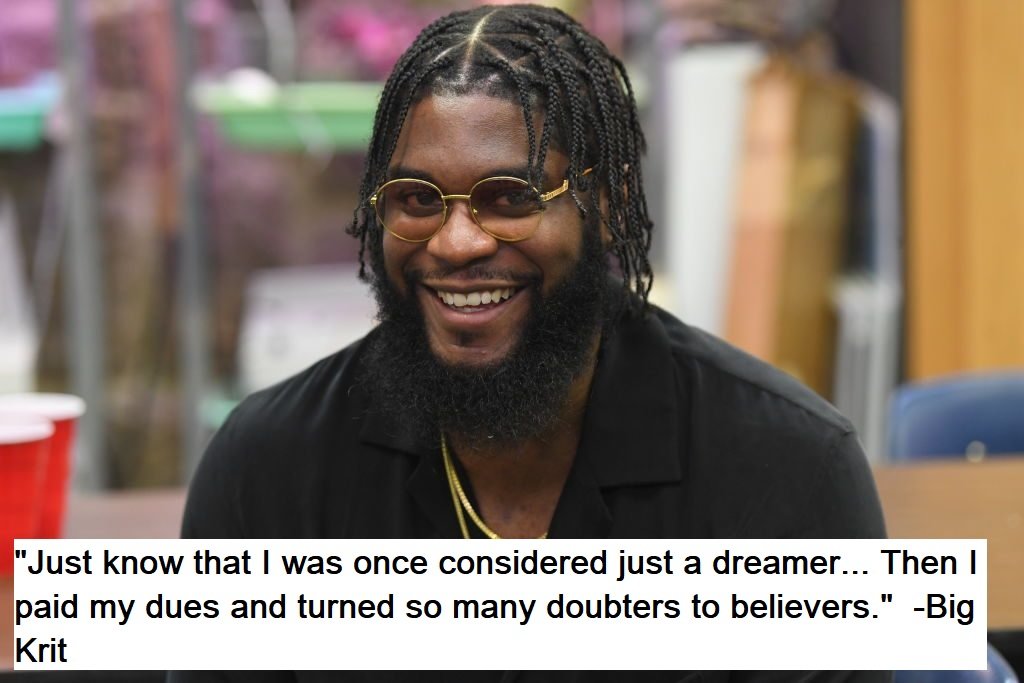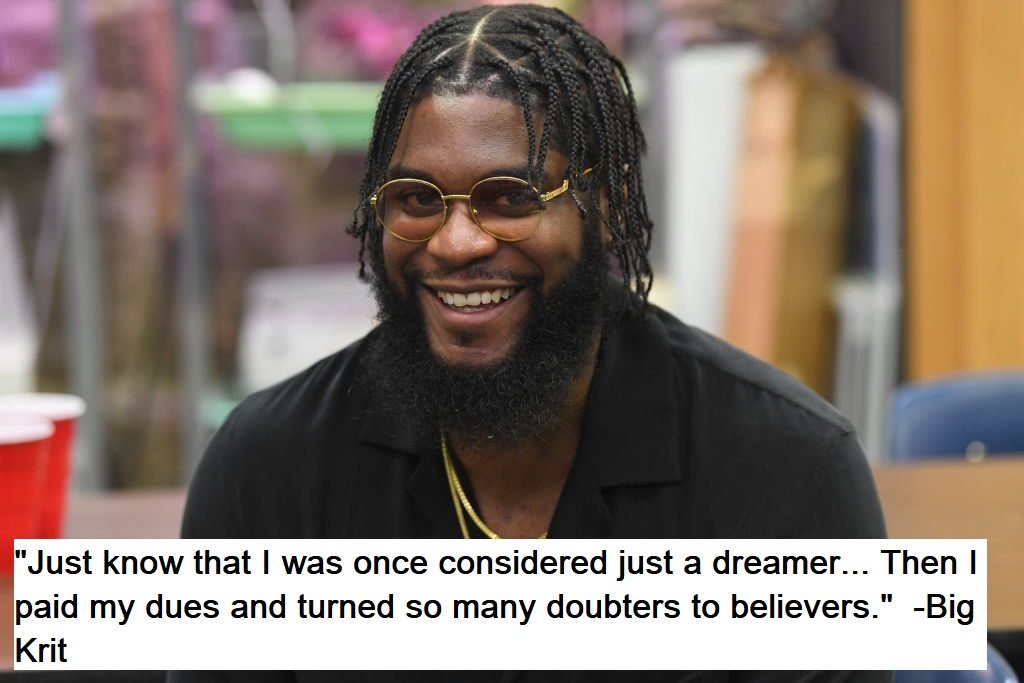 Everyone wants to do something for their family and themselves. Many people work hard to achieve their dreams and goals. The one who can achieve things in life is the winner.
At the same time, the one who cannot achieve the things in life is not the loser. But there is only a small difference between the winner and the one who did not succeed.
"Never drop the ball, never accept a loss, get back up if you fall and when your numbers called, you better give your all." -Big Krit
The winner is the one who never stops. He always plays until he wins. It is the only difference. A winner never loses hope and never stops working. He always works hard in life. The loser sometimes stops and gets disappointed.
Disappointment is not the solution to every problem. So try to work hard and never stop in life. By reading the quotes of Big Krit, you might get the inspiration. Do share these Big Krit Quotes with your friends.