Dreezy Quotes – Dreezy was born in Illinois, a city on the south side of Chicago. Dreezy is a singer and rapper of America. She is also an actress and a songwriter. The real name of Dreezy is Seandrea Sledge.
Dreezy is her stage name. In her childhood, Dreezy faced a lot of problems. She faced various issues in family matters, problems at home, and regarding friends. She moved to different places in Chicago to escape from these problems.
After this, Dreezy moved to fine arts, which helped her a lot in her life. In 2016 the first album of Dreezy was released. The name of this album was "No Hard Feelings." The album of Dreezy was then followed by Big Deez.
Dreezy inspired others with her singing and with her lifestyle. For you, we have some famous Dreezy quotes. These quotes might inspire you in life to face the problems of life with courage.
Most Popular Dreezy Quotes So Far
1.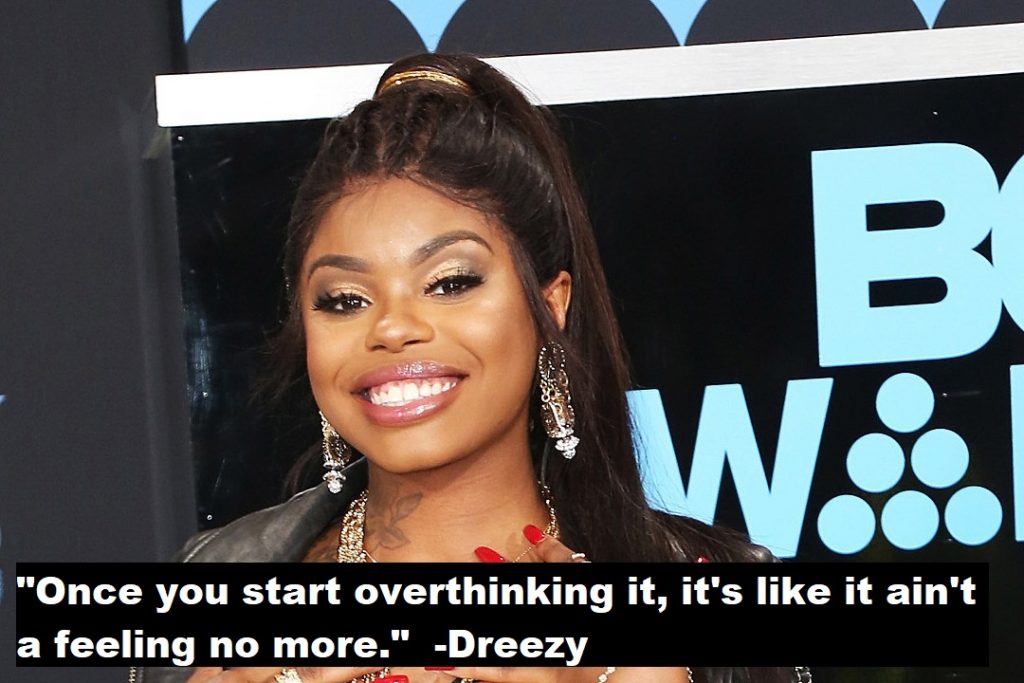 2."I have been singing since I was kid." -Dreezy
3."I was really artistic. I did a lot of poetry, a lot of writing." -Dreezy
4."I used to do poetry and write stories and stuff – I never really had anybody standing over my shoulder, like, "What did you write? Let me hear it." I hate that type of stuff." -Dreezy
5."Sometimes the best music is when you just put it out there."  -Dreezy
6."Writing was something I always did but that turned into singing and rapping. That something that came out of my writing."   -Dreezy
7."I'm learning how to work my voice. I got some songs that you probably wouldn't even know it's me singing on there. I will sit there and take 20 takes until I hit that note right. It's different on stage – you've got to hit the notes that one time."   -Dreezy
8."I have always been writing but when I started rapping I was just playing around. My friends told me I needed a rap name like Breezy or G-Eazy so I went with Dreezy." -Dreezy
9."I have always loved music."  -Dreezy
10."I'm really thirsty to go on tour! I love putting on a show. If the crowd ain't acting bougie, I love performing."-Dreezy
11."I used to sing when I was younger. I left it alone for a long time, 'cause I was like, I don't even know if I know how to sing for real."  -Dreezy
12."All I had was a CD with beats. I wrote to every beat on that CD, and when I got off punishment, I put out my first mixtape. I passed it out all around school. I started going to the studio. I started doing shows."  -Dreezy
13."I got caught shoplifting, which is not good. I was stealing for this boy that I went with at the time, and I ended up getting a three-month punishment."   -Dreezy
14."I like to go in the corner, in the quiet, 'cause I got to hear my thoughts. If I hear the beat for, like, five seconds, I basically got the tempo, and I don't need to hear it no more. I just focus and write."-Dreezy
15."It was dope to the point where I felt like Common almost admired me as much as I admired him. He took us to the hotel, and then he was going through his phone, rapping his raps to me. I was like, Is Common rapping to me right now, trying to get my feedback?" -Dreezy
16."I was a good student. By 8th grade, you've basically learned everything. By senior year, we was drinking, we was kickin' it, we was rapping. It wasn't really like business, hard work."   -Dreezy
17."My daddy was the type that if you asked him, "Dad, am I going to get off punishment soon?" – he would extend it. It was like jail."  -Dreezy
18."I was on the pom pom team, I was on the cheerleading team, I sang. I played football with the guys 'cause I didn't know how to play double dutch. Anything to get out the house."-Dreezy
19."You only want my time when you're wasted
You only hit my line when you're wasted"-Dreezy
20.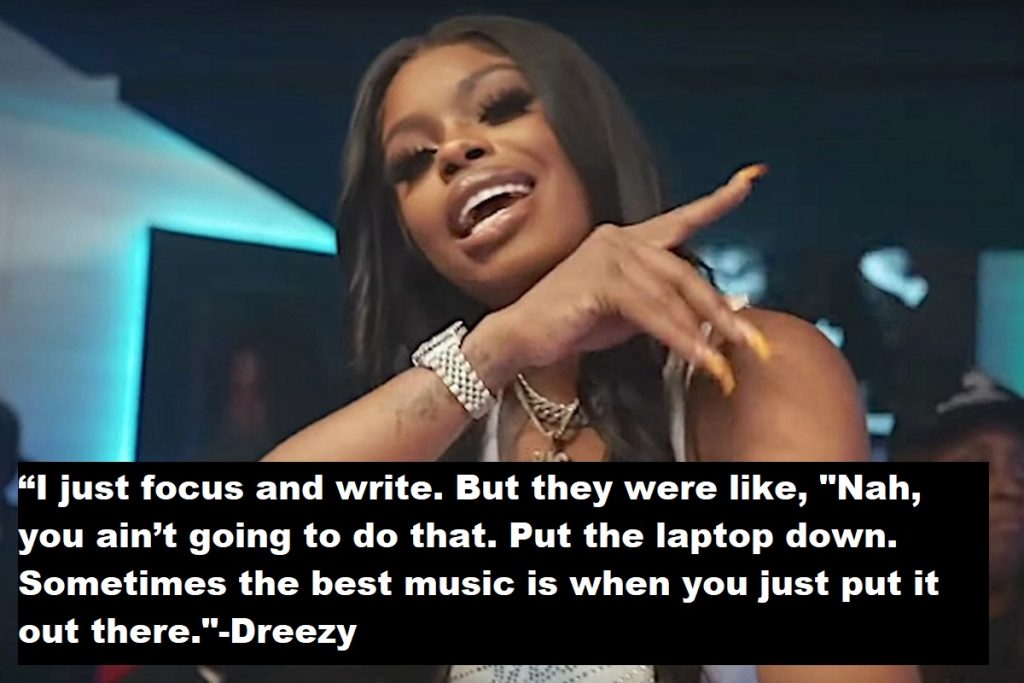 21."I never cared about my fate, because I know I got what it takes
So I'm in difference to the hate I got to many hopes at stake But, still I'm drowning I found myself surrounded."-Dreezy
22."All the tears I was shedding when the obstacles was given
All the niggas on my side, that told me they would ride but they lied."-Dreezy
23."I'm trying not to let my thoughts get to me
But they driving down a one way street"-Dreezy
24."Insecurities are my reality I got a boy that's on the side of me but will he ride for me I ask myself whenever he's inside of me how come I feel like I'm lost inside of me."-Dreezy
25."I just want to have somebody that's for me only
It's hard to find the one when all these niggas be on me"-Dreezy
26."Nobody wants to be, nobody wants to be – be lonely, be lonely
Nobody wants to be, nobody wants to be – be lonely, be lonely"-Dreezy
27."Somebody tell me what it feel like I never touched it I never had it
I saw it once but I couldn't grab it Took my heart then he fuckin stabbed it."-Dreezy
28."Is it really that easy for you to leave me
Have me fall for you then deceive me"-Dreezy
29."I think I know why these bitches mad
Cause I'm steady counting these zeros
But I swear to God I don't see you hoes
Cause I'm steady counting these zeros"-Dreezy
30.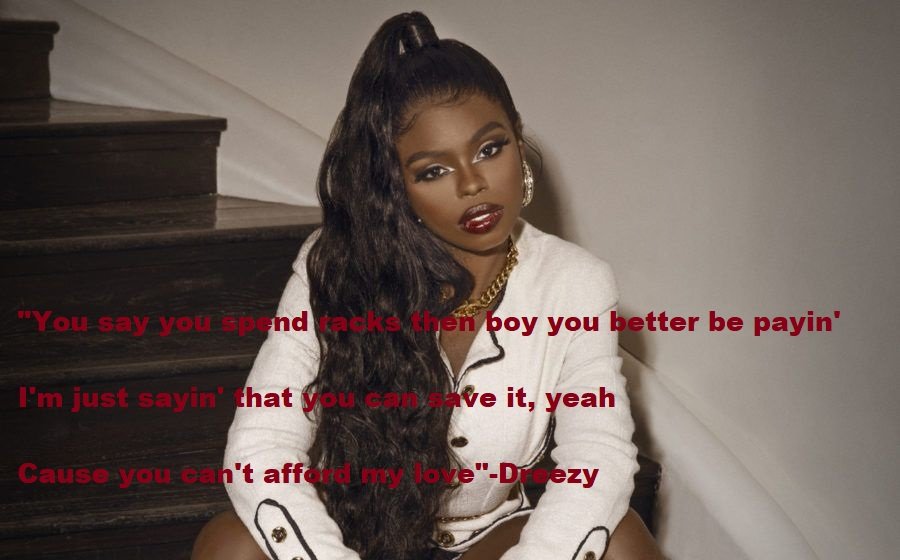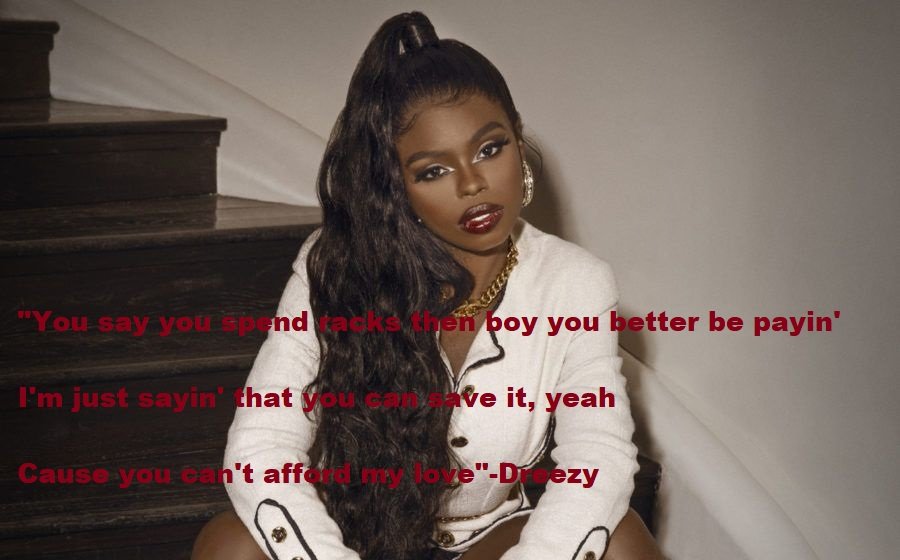 31."Don't tell me that you love me if you don't (you don't)
I just wanna' be by your side
So, maybe we should drop our pride
Let's keep it one hunnid'"-Dreezy
32."Why you be getting mad at me, like being committed is easy to do?
Niggas be all on my heels, but they ain't got nothing on you
These bitches be lovin' the crew, but I never be frontin' on you"-Dreezy
33."The truth is coming to get cha
Pain is about to split cha"-Dreezy
34."So all my haters wanna join me
So we bought a pack and we matched up"-Dreezy
35."Im cookin and flippin with bro in the kitchen
The way I got bars I should build me a prison"-Dreezy
36."Replace blood for your love in my arteries
Kind of drug they don't sell up in the pharmacy"-Dreezy
37."Good with numbers, a dime know what to do with a nine
Like I just bought a rollie spendin' quality time"-Dreezy
38."You see the problem that I've been drinking
Don't know if my dude comin' through
But baby can light it I been thinking
I can get a room witchu"-Dreezy
39."I know I take it way too far
And we've been a lot of places baby
Nothing was as good as us when we got along"-Dreezy
40."I could change yo life
You can have everything if you want it"-Dreezy
41."You'll never get another blessing like me baby I bet that
And he keep it one hunnid when I'm coming at him, so I respect that
Takin' flights, they was sleeping on you like jetlags
Go shopping we don't check tags"-Dreezy
42."Me and my bitches stick together like the Bradys
Run up on us, we won't save, we play crazy
All my niggas off them yoppas like the '80s
And they ain't tryna go to rehab, just like Amy"-Dreezy
43."Call me Gucci the Don, jump on, I'm on the run
Told my mama kill 'em so I'm a son of a gun"-Dreezy
44."Spend a fixture on Balenciagas
Then I put the rest up in the stash"-Dreezy
45."Took your nigga to the spot, he saw a bag of money, he thought I was a stripper Ever since I could remember I been balling like I'm really at the dipper"-Dreezy
46."Keep it a hunnid boy I know that you want it
Another round won't remember in the morning
Got on your shirt, put in that work"-Dreezy
47."Keep a K with me like Kourtney
Since a shorty I been popping like a forty
End of story baby"-Dreezy
48."This could be your best night
Get you home for the night"-Dreezy
49."You only want my time when you're wasted
You only hit my line when you're wasted"-Dreezy
50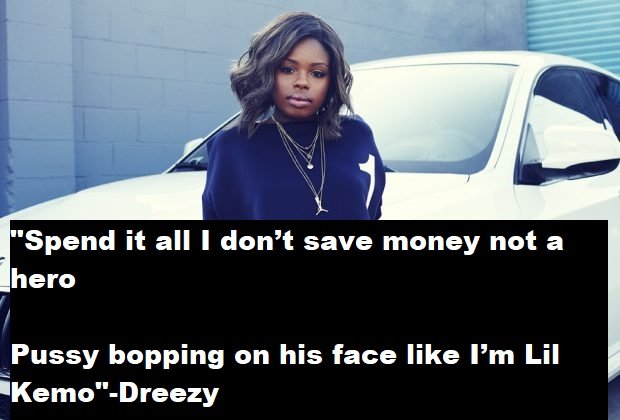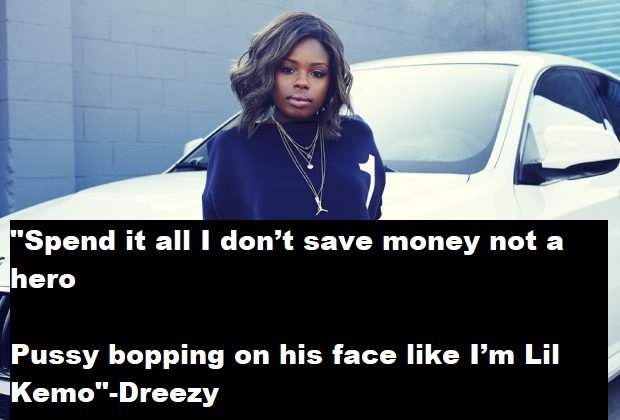 Dreezy life showed that all of us face a lot of problems in life. Problems like family issues, making new friends, and many more. Some find the courage to fight these problems.
At the same time, others find it difficult and start running from their problems. But running from the problems never gives the solution to any problem. When you face the issues, then you can find a better solution.
"You tell me you love me when you're wasted
I'm only on your mind when you're wasted"-Dreezy
51."You think that you're such a player
I see just what you are made of"-Dreezy
But if you start running, then these problems can never be resolved. The best thing to resolve the problems is what you want to do in life. Many times, when you start doing hard work, you start finding the solutions.
The solution leads to the path where all your problems can be resolved. By reading the quotes of Dreezy, you will know how she solves her problems of life with her work. Do like and share these Dreezy quotes with your friends.