John Elway Quotes – John Elway is the president of many football operations in America. He is the president of the operation for the NFL, which is the National Football League. And also for the Denver Broncos.
At Stanford, John Elway plays college football. He has spent his entire professional career of 16 years with Denver Broncos. John Elway made a lot of records. In the history of the National Football League, he is the second most prolific passer.
John Elway recorded the most victories by playing the role of quarterback. John Elway has a wonderful journey in the field of football. He inspires people with his outstanding play. John Elway also inspires the people with his words and actions.
For inspiring you, we are compiling some famous John Elway Quotes. These quotes might give you the inspiration and motivation to work hard and to achieve all your dreams and desires in life.
Best John Elway Quotes That Will Inspire You
1.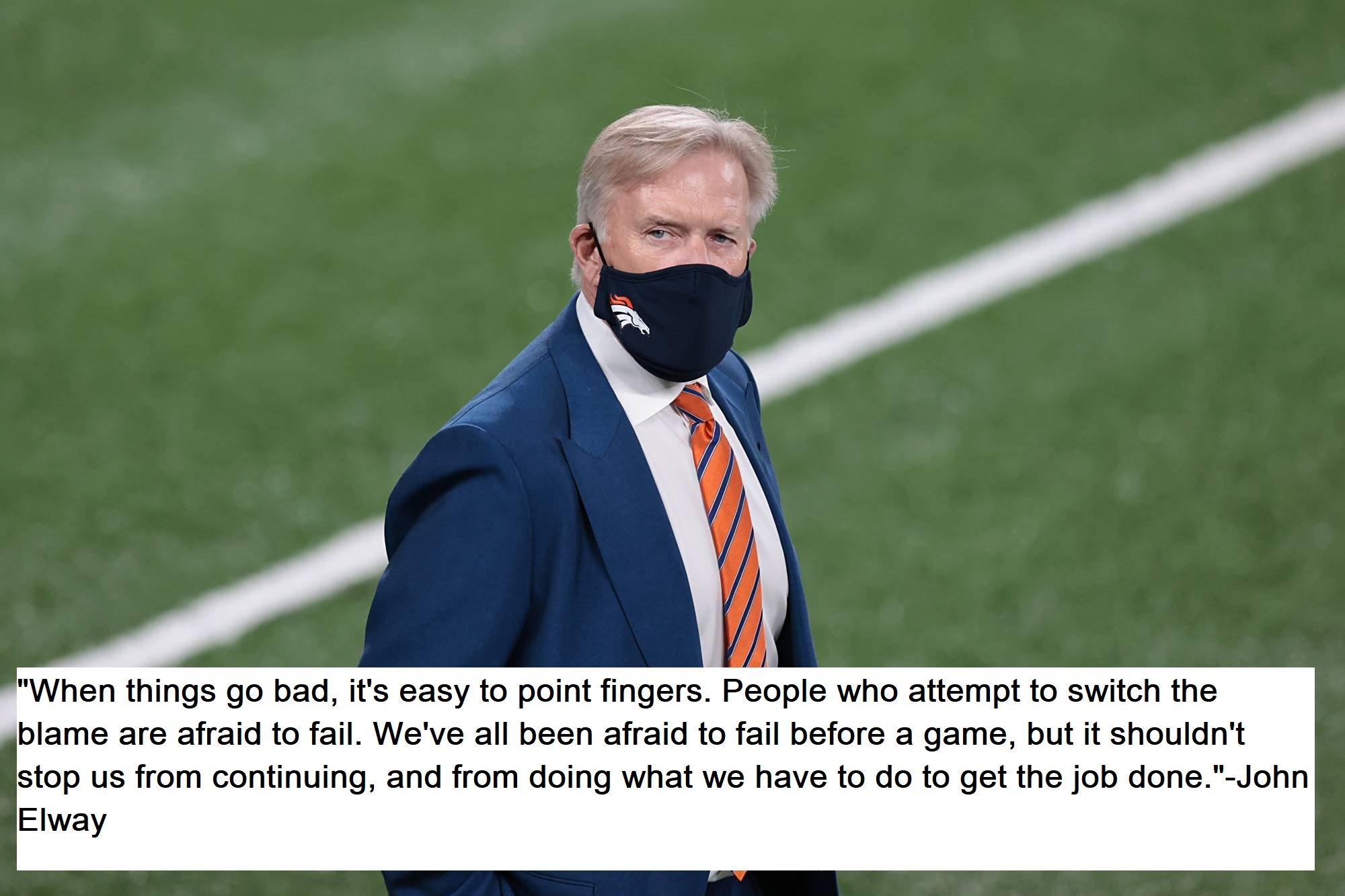 2."Being thrown into the fire and getting the thing turned around in a hurry made it more difficult. Things have been done the hard way. I think you learn better when things are done the hard way."-John Elway
3."There are a lot of people who might not get another chance to win a Super Bowl, not just me."-John Elway
4."There have been openings, but I have not interviewed for any jobs, nor do I want to right now."-John Elway
5."We're excited to be teaming with Fox Sports Net Rocky Mountain to bring Crush games to our fans. We are looking forward to a long partnership that we feel will benefit both entities. In addition, we are glad to build on the AFL's already strong national relationship with FSN by working together with Fox Sports Net Rocky Mountain." -John Elway
6."I've always joked about Joe Montana not appreciating his Super Bowls nearly as much as I do because he never lost one. We lost three before we got one."-John Elway
7."When I retired, I really wanted to spend time with my family and kids. Coaching would have prevented that due to the commitment of the job and travel that goes with it, too."-John Elway
8."I was so lucky to walk away with two Super Bowls and know that the last year was positive."-John Elway
9."The Arena League is the best thing that could have happened to me because I get to run the whole process. I'm seeing not only the football side but the business side."-John Elway
10."I'm watching the Weather Channel more than I've ever watched it. I'm scared to death it's going to rain."-John Elway
11."You always want to have good balance. That's the key to winning a Super Bowl. You look at the teams who have won championships, you got to have balance. So, to be able to run the ball effectively and throw the ball effectively is what gives you the chance to win a world championship."-John Elway
12."I would have loved to have played for Joe Gibbs. Look at his record of winning three Super Bowls."-John Elway
13."You learn a lot more from the lows because it makes you pay attention to what you're doing."-John Elway
14."It's all about putting the best team together – not just in the front office but the players on the field."-John Elway
15."A guy as great as Brett Favre has been for the length of time he's been, you would hope that he would be able to leave the game with a positive flavor in his mouth."-John Elway
16."I don't have any pangs to where I want to be with the Broncos."-John Elway
17."It's really been a better situation for me being with the Crush than it would if I were with the Broncos because this has given me a lot more broad range."-John Elway
18."I'm getting the basics with the AFL, but the NFL is a different animal."
19."I'm happy with the Arena Football League right now. I'm happy in Denver."-John Elway
20.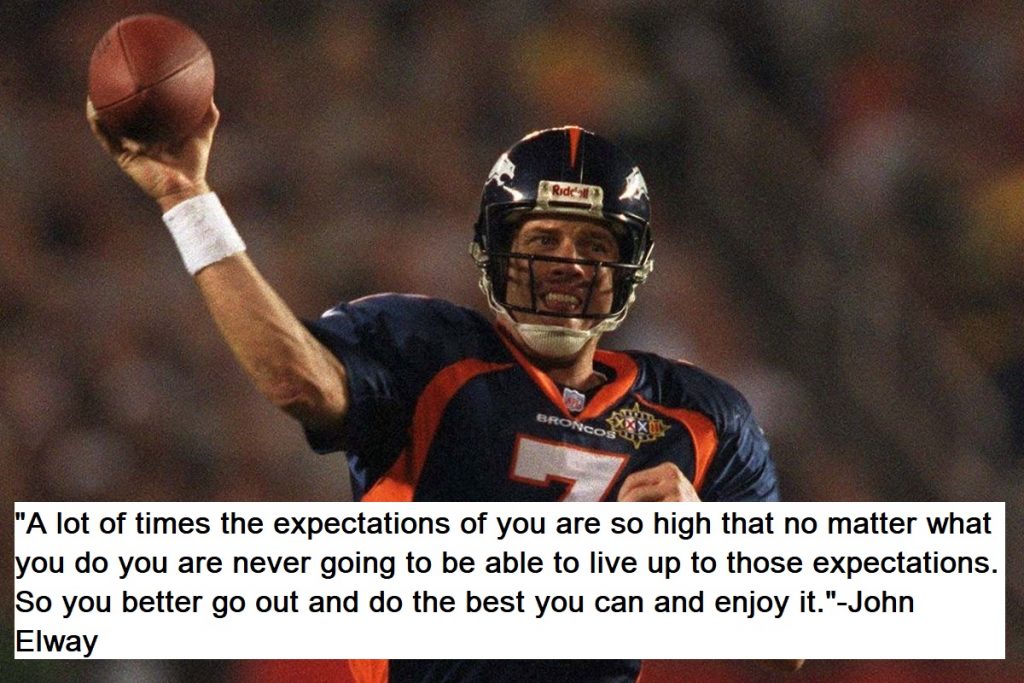 21."I was a baseball player and a football player at Stanford, so I didn't play a lot of golf in college. I really started playing a lot after I turned pro and I had some time in the off-season."-John Elway
22."Even when I retired, there was part of me that didn't want to retire. But once you decide it's time to move on then you have to stick with it."-John Elway
23."I look at my career and it's still hard for me to believe the way things turned out and how things happened. I've been so blessed."-John Elway
24."The patience that goes with the game, the little things that go along with the game, you have so much more time to think in golf than you do in football – you have to keep your thoughts positive. I'm not sure I've got that mastered."-John Elway
25."I can't compare quarterbacks as apples and oranges in my mind because everybody's in a different system."-John Elway
26."As football players you have all the experience on the field. You don't have the experience off the field."-John Elway
27."To be able to get a football team that's capable of competing for world championships, you always got to get a little bit lucky, but you got to have all phases to win it all."-John Elway
28."I think I'm lucky in life and not just in football. I was very fortunate to play for a great organization and a great team that was really good near the end of my career."-John Elway
29."I would hope this experience would help me if that NFL opportunity were to arise. But I also know that it's a totally different league. There's a lot more to it."-John Elway
30."I don't know if I like being the sentimental favorite."-John Elway
31."I always believe there's a reason why you go through everything."-John Elway
32."How ironic, to be my last game that I ever played would be against Dan in a Super Bowl. The thing I always was afraid of was playing in a Super Bowl when it was raining. I can't throw a wet ball."-John Elway
33."I had a great time doing Vegas. It's just that it takes a lot of time."-John Elway
34.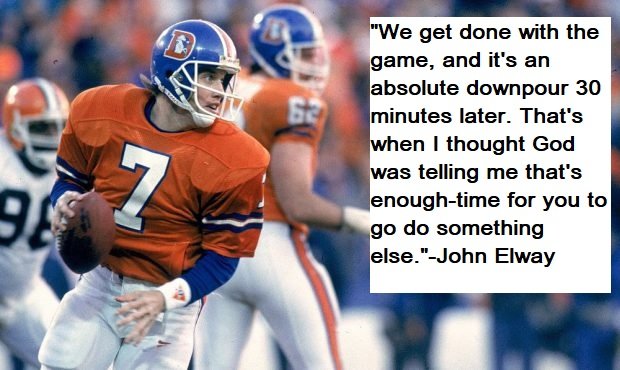 35."Reaching this number so quickly is truly a testament to Crush fans who have been so loyal and supportive of this team from day one. It is our goal as an organization to make sure this team is something that Crush fans can be proud of both on and off the field."-John Elway
36."In the long run, the cream always rises and the crap always sinks."
37."I normally run the 40-yard dash in 4.9, but when a 280-pound guy is chasing me, I run it in 4.6."-John Elway
38."If you ask what's been my secret of success, most might say it's my God-given athletic ability to throw a football. While talent is important, it's not necessarily the most important thing. Thousands of talented people fail every day. My strength has been my will to win-that competitive fire inside."-John Elway
39."Reaching 50, I've started to conjure up thoughts of my own mortality."-John Elway
40."I think the thing that he wants even more that would solidify his position would be a couple championships. Hopefully we can get that done. Peyton Manning is already in the conversation of the greatest player to ever play and if he wins one or two more, he probably ends up being the greatest quarterback to ever play the game."-John Elway
41."There's always an asterisk behind somebody's name who hasn't won the Super Bowl. There shouldn't be, but that's kind of the way history works."-John Elway
42."You want to get involved and be a part of something that there's a chance to raise a whole bunch of money. We can all donate money, but you want to do more."-John Elway
43."That place ain't loud anymore. It might be too comfortable."-John Elway
44.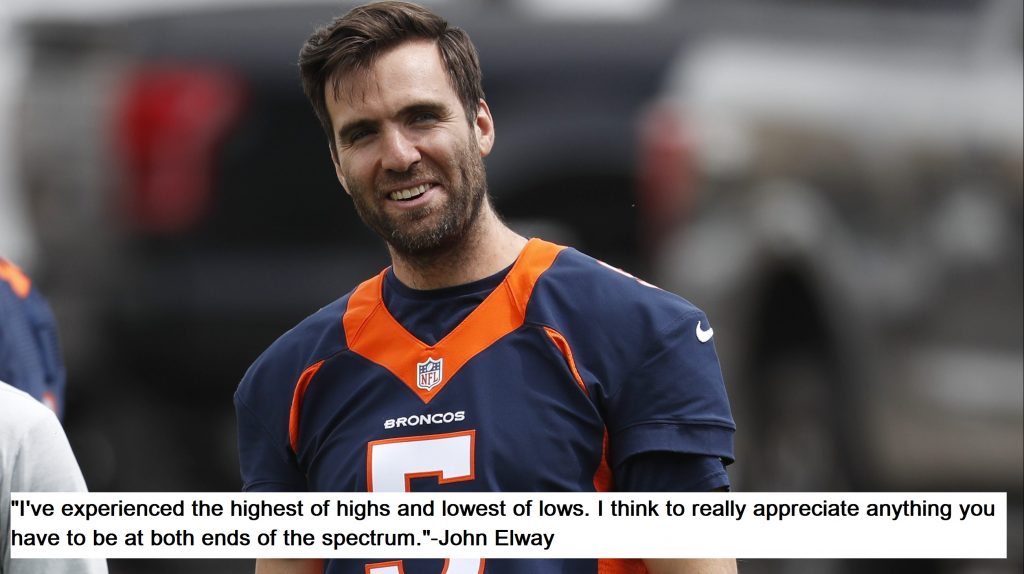 We all have a lot of dreams and desires in our life to fulfill. But only some of us do hard work to fulfill these dreams. But if someone wants to fulfill the desires, then hard work is a very important part.
John Elway does a lot of hard work to become a famous player. Many times the things are so hard that it becomes difficult to handle them. But John Elway overcomes this hard way perfectly. If you want to learn, then the hard ways are the best options for you.
Everyone can learn better things in this hard time. By reading the quotes of John Elway, you might get the inspiration to not be afraid of a hard time and get the motivation to face the difficult times and get your dreams.