Justin Moore Quotes – Justin Moore is an American singer and songwriter. He is a country music singer. Justin Moore signed to the Big Machine Records. For Big Machine Records, he released six studio albums.
These six albums include Self-titled debut, Outlaws Like Me, Off the Beaten Path, Kinda Don't Care, Late Nights and Longnecks, and Straight Outta. In the US Billboard Hot Country Songs and on the Country Airplay charts, he has also charted.
Justin Moore chartered there sixteen times. There are a lot of songs by Justin Moore that comes at number 1.
Some of these songs include Why We Drink, Small Town USA, The Ones That Didn't Make It Back Home, If Heaven Wasn't So Far Away, Somebody Else Will, You Look Like I Need a Drink, and Lettin The Night Roll. Justin Moore inspires others with his music. For you, we have compiled some famous Justin Moore quotes.
Inspiring Justin Moore Quotes
1.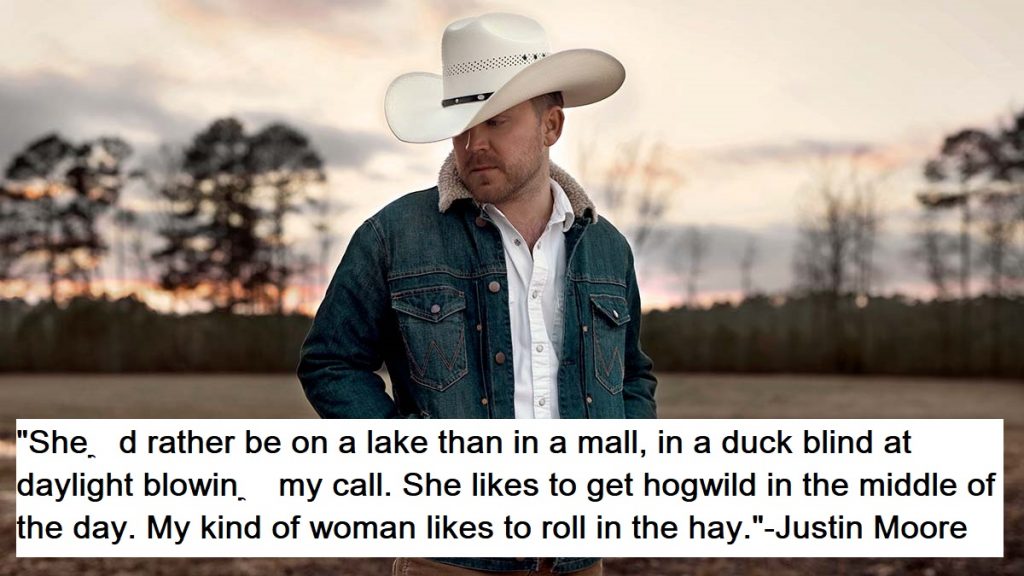 2."I've been bit, I've been burned. But I've lived and I've learned from it. I've made some mistakes but that's what it takes to make a man out of a kid."-Justin Moore
3."A lot of people called it prison when I was growin' up. But these are my roots and this is what I love. 'Cause everybody knows me and I know them. And I believe that's the way we were supposed to live. Wouldn't trade one single day here in small town USA."-Justin Moore
4."Give me a Saturday night, my baby by my side, a little Hank Jr. and a six pack of light, old dirt road and I'll be just fine. Give me a Sunday morning that's full of grace, a simple life and I'll be okay here in small town USA."-Justin Moore
5."Around here we break our backs just to earn a buck. We never get ahead but we have enough. I watch people leave and then come right back. I never wanted any part of that. I'm proud to say that I love this place, good ole small town USA."-Justin Moore
6."I worked hard all week but now you're here with me, starin' up at a summer sky. A blanket in the truck bed just gives me the go ahead 'cause we've got plenty of time."-Justin Moore
7."The crickets are singin', the country moon is shinnin'. And I can see that fire that's a burnin' in your eyes. And all I wanna do is lay you down and love you like there's no tomorrow, tonight."-Justin Moore
8."I'm just a country boy from this land. Makin' a living with these two hands. Still believe in the good ole American way."-Justin Moore
9."We can't stand by and just let it fade away the good ole American way."-Justin Moore
10."You got your teeth bleached. You like to play the rich game. Yeah, you think you're a cowboy, the new Jesse James."-Justin Moore
11."But I could kick your ass. I could jack your jaw, put you flat in the dirt, boy. Yeah, I'd have a ball so go ahead and act tough like your John Wayne's son. But things can change fast. I can kick your ass!"-Justin Moore
12."Honey, back that thing up. Throw it in reverse. Let daddy load it up. Honey, back that thing up. If you gonna work a farm you gotta learn to drive a truck. Honey, back that thing up."-Justin Moore
13."You ain't lookin' too at home in them cowboy boots. But them pigtails and cutoffs work on you. You gonna learn to love this kinda life. You're gonna fit right in, now shut up and drive!"-Justin Moore
14."It's the only place that I call home, no matter where in this country I might roam. It's where the corn grows tall and the moonshine still flows. It's the only place that I call home."-Justin Moore
15."I'm kicking myself in the rear end every day, saying, 'Did I really book this many shows? What am I doing?'"-Justin Moore
16."Yeah, American-born, a dirt road man with that slow southern drawl. Now keep walkin' the walk and talkin' the talk, Grandpa."-Justin Moore
17."You gotta hank it. You can't sip whiskey, gotta drink it. Push it up to ten and crank it. If you wanna keep your woman, gotta spank it. If you ain't got a bunch, you gotta bank it. Live it just like he sings it. You gotta hank it!"-Justin Moore
18."I can't hide my redneck side. It's in my blood till the day I die. When I start havin' a real good time, oh, I can't hide my redneck side."-Justin Moore
19."Yeah, she looks good on my tractor, good on my truck. Good on my bed when the sun comes up. She's good with a cane pole, good with a gun. It's corn bread and sweet tea where she's from. She's my kind of woman, good as they come."-Justin Moore
20.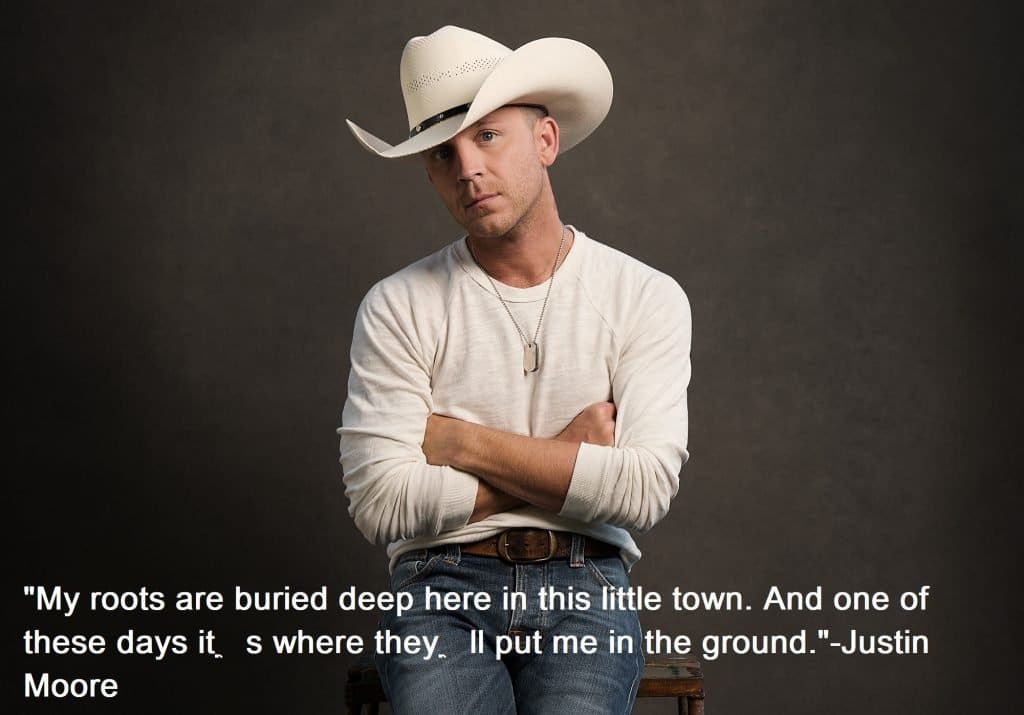 21."Boys, it's beer time! This ol' town's dry. Headed to the county line for something cold. I need a twelve pack in a brown paper sack. Ice it down in the back. Find a deep mud hole. I got my baby and some rowdy friends of mine. It's beer time!"-Justin Moore
22."Has he kissed you in a hay field as the summer rain falls down? Has he took you to meet his mama, back in his home town? Does he drive the interstate, or does he take them old back roads? Can he melt your heart with a country song, every good old boy should know? I didn't think so."-Justin Moore
23."He can't even bait a hook. He can't even skin a buck. He don't know who Jack Daniels is. He ain't ever drove a truck. Knows how to throw out a line, but not the kind in a field and stream book. No, darlin', I ain't even worried. You'll come runnin' back."-Justin Moore
24."I'm a lucky man. I got a real good life. With all the things I've done nothin' gets me as high."-Justin Moore
25."We're about to get drunk, and go country on ya. Yeah, it's gonna get loud!"-Justin Moore
26."No, I don't care if you don't like my twang 'cause I know they love it in small town USA. It's the way I live, it's the way I talk. Hell yeah, it's the way I sing so I don't care if you don't like my twang."-Justin Moore
27."Guns, whether Remingtons and Glocks. Come on, man, it ain't like I'm a slingin' 'em on the block. I'm gonna tell you once and listen, son- as long as I'm alive and breathing, you wont take my guns."-Justin Moore
28."Them sunshine babies all across the land workin' on a tan drivin' country boys crazy. All oiled down with a beer in their hand. Easy to spot, way too hot. I'm diggin' on what they got them sunshine babies."-Justin Moore
29."I was surprised to win, although I was also hopeful."-Justin Moore
30."To be honest, he didn't take advantage of his opportunity, and he'll tell anybody that."-Justin Moore
31." Being a big brother, he told me to take advantage of this opportunity, to enjoy it."-Justin Moore
32." Don't come out here and be too nervous, just take full advantage of it."-Justin Moore
33."They're actually looking for me to play fullback for them. They said they don't have a lot of depth at the position, so I'll have a chance to be starting next year."-Justin Moore
34."He said, 'Just enjoy it,' because he's not in the league anymore, so he'd like to see his little brother do well."-Justin Moore
35."This might be the most country thing I've ever cut! I told Miranda Lambert that she was gonna want to cut it and after she agreed to duet with me, I said maybe you should listen to me and Blake Shelton more often!"-Justin Moore
36.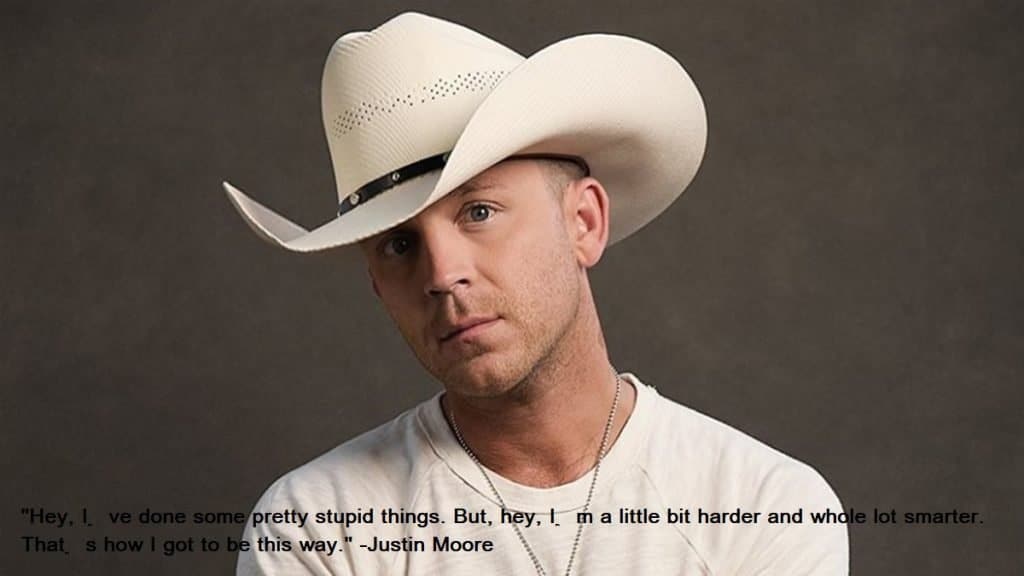 Justin Moore starts his music career at school. He performed in the junior year of high school. When Justin Moore completes his graduation, then he joined his Uncle's band.
Justin Moore joined the Southern rock band of his Uncle. After joining it in 2002, he moves to Nashville. When he moved to Nashville, he then met a young producer.
"Give me a Sunday morning, that's full of grace, A simple life and I'll be okay, here in small town U.S.A."-Justin Moore
The name of this producer is Jeremy Stover. The producer Jeremy Stover introduced Justin Moore to Scoot Brochette. Scoot Borchetta is an industry executive. He decides to launch The Valory Music Co. When Justin met Borchetta, he promised Justin to give him a big record deal.
But for this, Justin Moore has to keep some patience. Justin Moore does a lot of hard work in his life. He also inspires others with his journey. By reading the quotes of Justin Moore, you might get inspiration and motivation.