Sara Bareilles Quotes – Sara Bareilles is a singer and a songwriter of America. She has also worked as an author, an actress and a producer. In 2004 the first debut studio album of Sara Bareilles was released. The name of this album is Careful Confessions.
The second studio album of Sara gives her recognition. The name of this album is Little Voice. This album contains a song named "Love Song." On billboard Hot 100, the Love Song achieved a rank and reached at no 4. This song helped Sara to earn two nominations in the Grammy Awards.
Sara Bareilles also played the role of a judge. She became a judge in the NBC singing competition. Sara does a lot of hard work in her life. She inspires people with her melodious voice. Sara Bareilles is the inspiration of many people. Here are some of the well-known quotes by Sara Bareilles.
51 Most Famous Sara Bareilles Quotes So Far
1.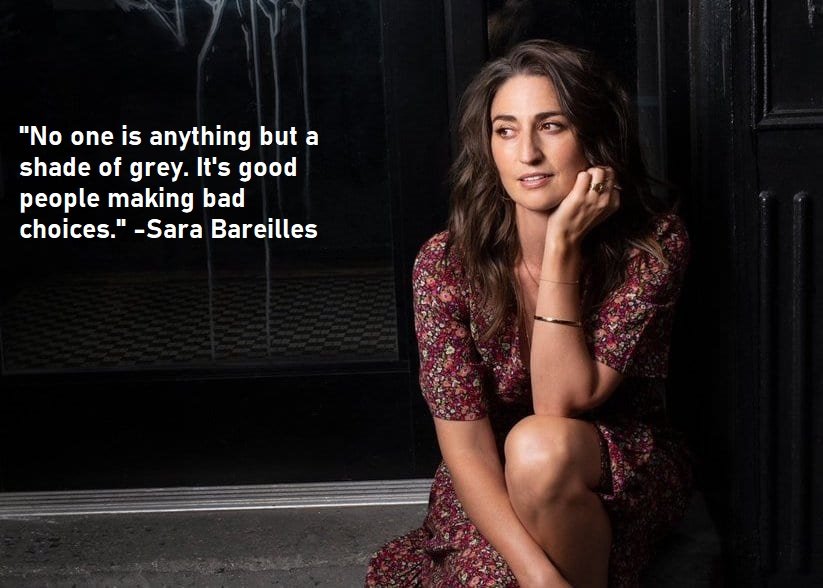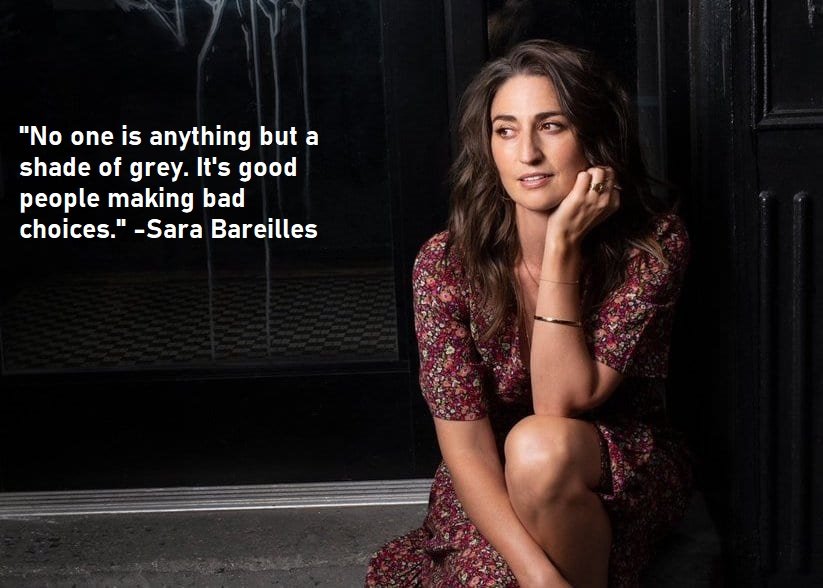 2."True bravery is being exactly who you are, imperfections included. Vulnerability is the most precious gift you can give."   –Sara Bareilles
3."Just speak your truth, it's an important cornerstone of how your life ends up sort of unfolding in front of you. Even if it's painful, if it's honest, it's going to bring you to the place you deserve to be."   -Sara Bareilles
4."It'd be a shame to stop now that I've started to make really good mistakes."  -Sara Bareilles
5."If you take your fear and mash it into something that's actually useful, then it doesn't feel like it wins."   -Sara Bareilles
6."Show me how big your brave is."  -Sara Bareilles
7."The most powerful place you can come from is just having a really deep knowing of who you are and what you want for yourself."   -Sara Bareilles
8."Compare where you are to where you want to be, and you'll get nowhere."   -Sara Bareilles
9."Love is blind, but when we close our eyes, we see with our hearts."   -Sara Bareilles
10."The struggle is to stay present enough when you're taking your next step forward that you're really making your most honest choices."  -Sara Bareilles
11."I work a lot with men, and I work with wonderful men that I absolutely adore, but it's something that I'm now paying attention to – to seek out and make room for the talented women in all the technical fields and creative fields across the board."  -Sara Bareilles
12."You can be the outcast or be the backlash of somebody's lack of love. Or you can start speaking up." -Sara Bareilles
13."At the end of the day, the only thing I ever wanted to feel was loved. So I think if I could give someone a piece of advice, it's really learn how to be kind to yourself. In all of our ugliness and all of our brokenness and our bad choices, to really learn to nurture that part of yourself that can be your own big sister in a way."  -Sara Bareilles
14."I have found so much joy and so much pride in contributing and being a team member, and then stepping back and watching someone else get the applause. That has been really satisfying in a way that I wouldn't have probably imagined."   -Sara Bareilles
15."I'm somebody who grew up listening to a lot of musical theater, so getting to finally write musical theater songs and songs that sound that way – the emphasis being on the storytelling, but the arrangements and the orchestrations can be really varied – I found that to be, actually, a really joyful discovery."    -Sara Bareilles
16."I'm that person who owns all of the seasons on DVDs, including the Lifetime intimate portraits showcasing The Golden Girls. I am a massive fan. I think I'm Dorothy. She's my favorite." -Sara Bareilles
17."Late night writing is also good, too, but in New York, you've got neighbors. I try to be a good neighbor."   -Sara Bareilles
18."The women in my family are all super-emotional. The catchphrase in our family is 'Listen to my words, not my tears.'"    -Sara Bareilles
19."I certainly have dreams of being on a Broadway stage someday, if they'll have me. I think I want to stay really open to whatever possibilities present themselves."    -Sara Bareilles
20.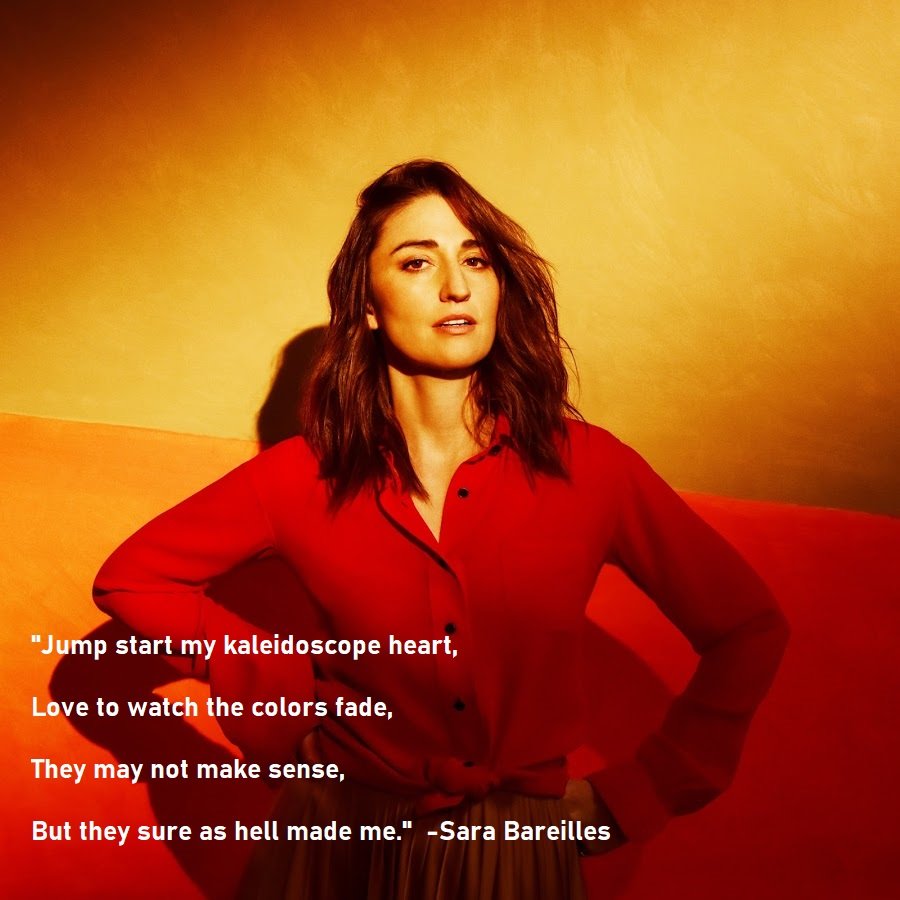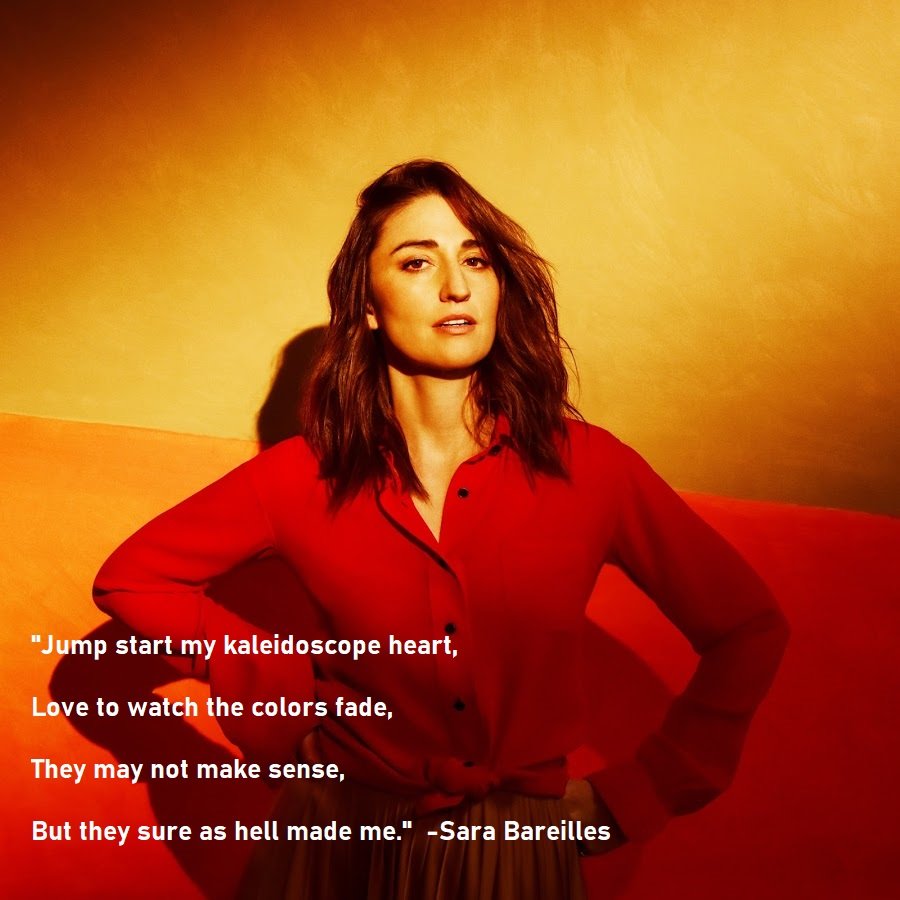 21."I go straight for Seinfeld, Modern Family, Friends, and Golden Girls. Those are my pillars of strength on TV."   -Sara Bareilles
22."I like seeing someone that can sing jazz and then flip over and sing a pop song and then sing a rock song." -Sara Bareilles
23."I love the morning time – a cup of coffee and to sit at the piano, that's probably my favorite time."  -Sara Bareilles
24."So how do you do it, with just words and just music, capture the feeling that my Earth is somebody's ceiling?"   -Sara Bareilles
25."I am passionate about young women and advocating for them." -Sara Bareilles
26."I know that I'm very susceptible to getting caught up in storylines like, "I want him to be different. I want him to be more open. I want him to call." We have all of these storylines that kind of take over sometimes, and I think there's real grace and a peaceful heart at the center of just accepting what is, and knowing that everything's OK. The good, the bad, the ugly, the pain, the hurt, the frustration – all of that is valuable and part of this human experience, so we should lean in to all of it."  -Sara Bareilles
27."When I look back, I was so mean to myself, and I was so uncomfortable in my own skin. I still feel that very loudly sometimes, but to try and really nurture that sense that you are your own friend."   -Sara Bareilles
28."I think I'm someone who is really prone to melancholy, and the super heavy, thick shows kind of spiral me out into not being able to be as happy a person as I think I deserve to be, so I tend to watch things like
30 Rock and The Unbreakable Kimmy Schmidt. Anything Tina Fey's involved in. And Parks and Rec. I love comedies!"   -Sara Bareilles
29."I used to sing songs from musicals all the time as a kid."   -Sara Bareilles
30."I think it was the perfect gestation time for this particular piece [ Sounds Like Me: My Life (So Far) in Song]. One of the songs that I considered talking about was "Manhattan," because it was chronicling the end of a long relationship that was part of the reason why I moved from Los Angeles to New York, which was such a life-changing decision. I don't regret that it's not in there, but that's one that I considered diving into, and I have little piecemeal snippets of writing about that floating around."   -Sara Bareilles
31."You can be amazing, you can turn a phrase into a weapon or a drug."   -Sara Bareilles
32."I'm grateful to have the chance to be inspired by the incredible artists that are out there."  -Sara Bareilles
33."Music is catharsis for me."    -Sara Bareilles
34."I love the morning time. There's something about having the day in front of you."  -Sara Bareilles
35.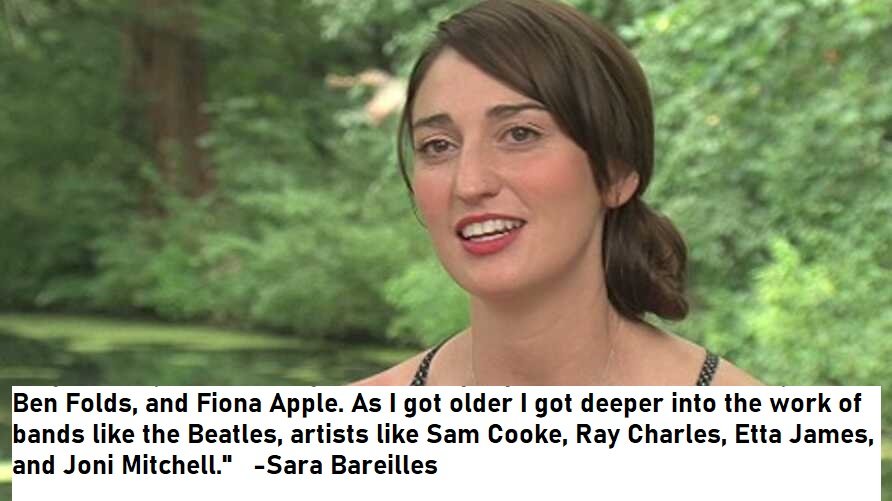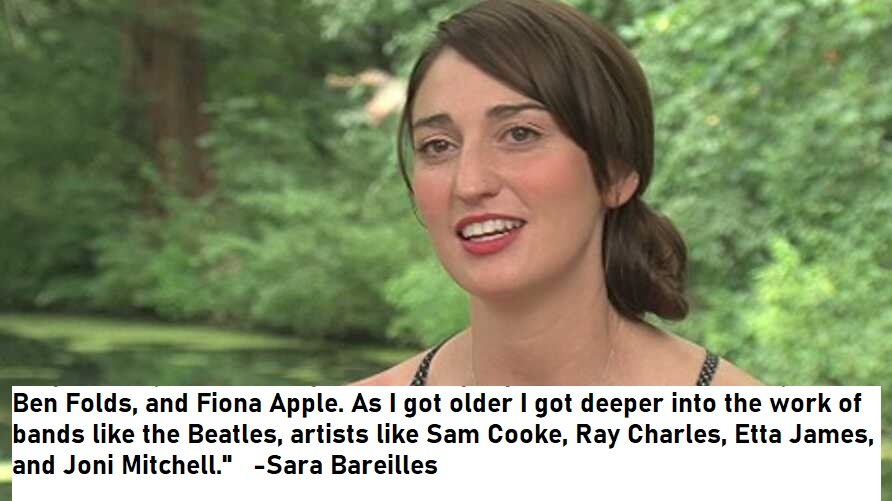 36."I do a lot of reading on Buddhist philosophy, and a Buddhist nun named Pema Chödrön talks a lot about acceptance. It's one of the main tenets of Buddhism – accepting that what is, is. The root of our suffering is when we just don't want to accept a truth. We want something to be different than it is." -Sara Bareilles
37."I'm happy to be working with all women."    -Sara Bareilles
38."It's very exciting to be a part of a team of collaborators in general."   -Sara Bareilles
39."I have been very fortunate to be a part of tours with other artists that have exposed me to new places that I've never been before. Once you discover something beautiful, you just want to keep coming back."  -Sara Bareilles
40."I'd like to think I could physically manage doing that, but I don't think it feels authentic to the kind of performer that I am. I think that, for me, being stationary and just sort of singing the songs seems to be the most connected and authentic expression for me on stage."  -Sara Bareilles
41."If I get frustrated, the first thing I'll do is get up from the piano – completely mindlessly – and walk over to the cupboard and pull out something salty to eat." -Sara Bareilles
42."I feel like I'm on the precipice – just seeing a better version of me coming out."   -Sara Bareilles
43."I think we're at a really rich and fertile time in the zeitgeist about paying attention to diversity of all kinds – racial diversity, gender diversity, making room for a continuum that is more inclusive."   -Sara Bareilles
44."I think that's my hope for a lot of the feminist movement is that the gender thing sort of stops being the selling point, if that makes any sense. We're just people making art, and that's how this process has felt to me."  -Sara Bareilles
45."One of the wonderful ways to celebrate women is to hire women."   -Sara Bareilles
46."The music industry can feel wonderful, but it can also feel very cold."   -Sara Bareilles
47."The earliest issue I can remember going through was body image issues. I was a chubby little kid and I got made fun of for it. I dealt with horrible, horrible self esteem issues, and I still struggle with that. I think it's what taught me a lot of empathy and compassion, though, but there are those days where I look in the mirror and I still see twelve year old fat Sara."   -Sara Bareilles
48."My proudest moment of my career was opening night in Cambridge and watching the cast take their curtain call. No one was looking at me, and I was floating off the ground. It was just euphoric."   -Sara Bareilles
49."I have a tendency when I feel myself getting stuck, my impulse is to go to my cupboard and find chips to eat."    -Sara Bareilles
50."The theater community at large, I have to say, has just been so warm and so welcoming, and that's not something I'm as used to." -Sara Bareilles
51.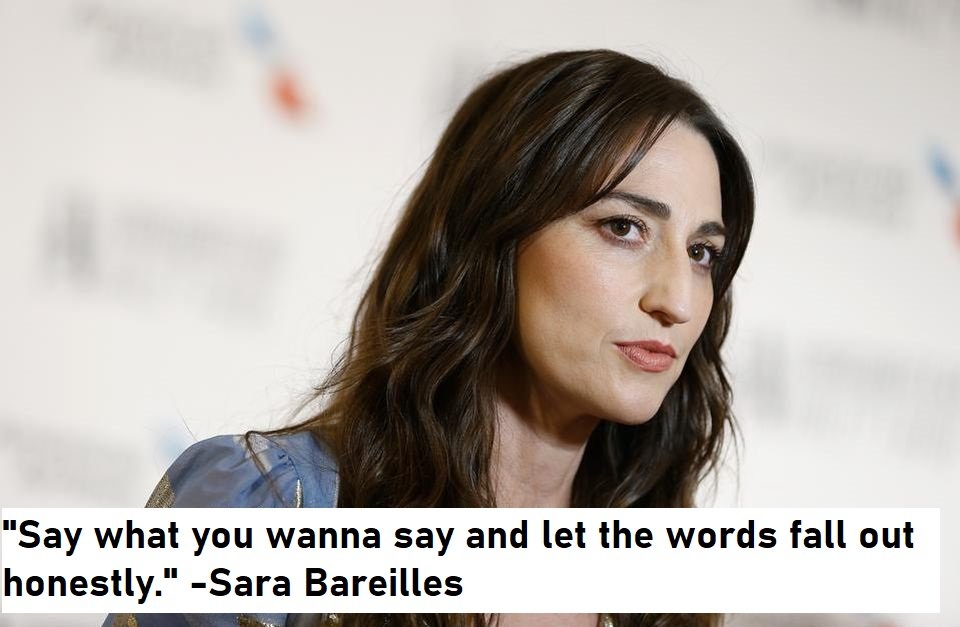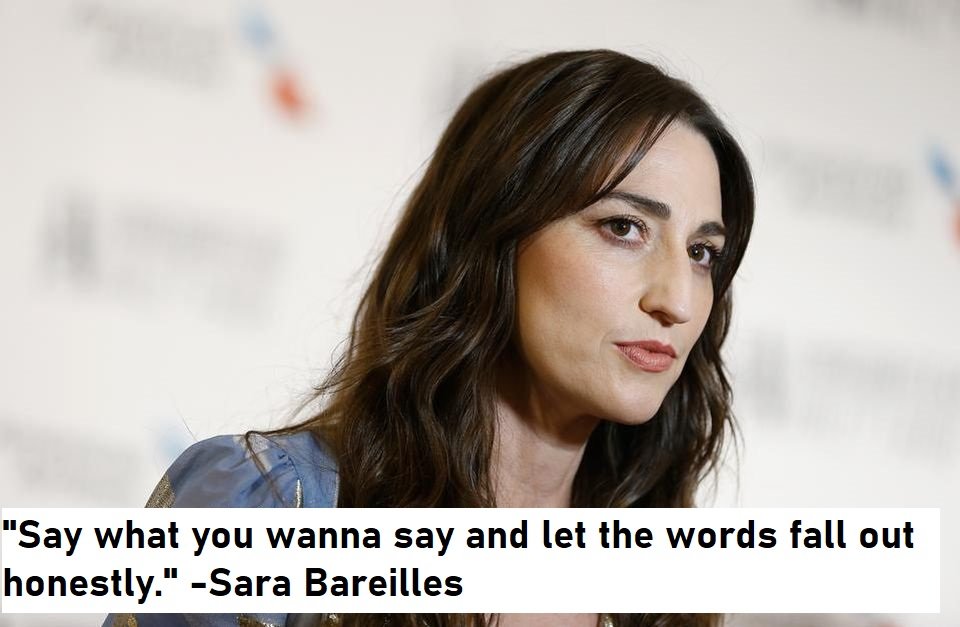 In life, we want others to speak the truth. But when it comes to us, many people do not like to talk the truth. It is because many times, the results after speaking the truth create fear. A fear that stops us from speaking the truth.
Fear of what other people will think about yourself. If you want to achieve something good in life. Then you have to speak the truth. However, speaking the truth is not much easy. It is a very painful path. But one day, you will realize that you select the right path for yourself.
"I definitely get a little antsy when I haven't had a good fix!."   -Sara Bareilles
Your truth will take you to the place that is right for you. You will get the things that you deserve in your life. By reading Sara Bareilles' quotes, you might get the inspiration to speak the truth and work hard. Do share, like and comment on these quotes by Sara Bareilles.