Ab-Soul is a rapper from America. He is from Carson, California. Ab-Soul was born in Los Angeles. The real name of Ab-Soul is Herbert Anthony Stevens IV. He is well known because of his stage name, which is Ab-Soul.
Ab-Soul signed and started work with Top Dawg Entertainment. While working with Top Dawg Entertainment, he formed a hip-hop group. This hip-hop group was named Black Hippy.
Ab-Soul has also worked with different other rappers. Ab-Soul songs are very popular due to their lyrics. He has also made four albums independently. These four different albums include Do What Thou Wilt, Control System, These Days, and Long-term Mentality.
All these albums got positive responses from all over the world. Every song of Ab-Soul has inspirational and powerful lyrics. Here, we have added some popular Ab-soul quotes for you.
Popular Ab Soul Quotes
1.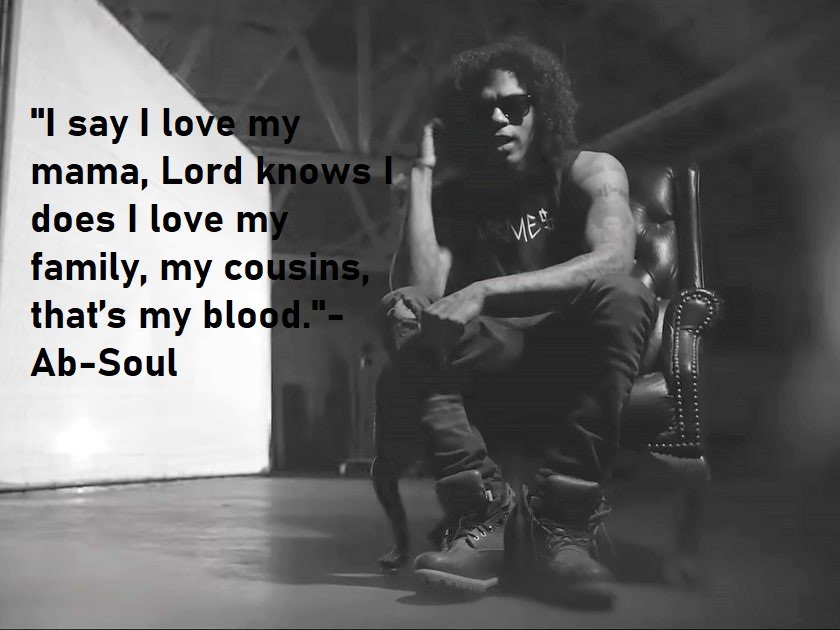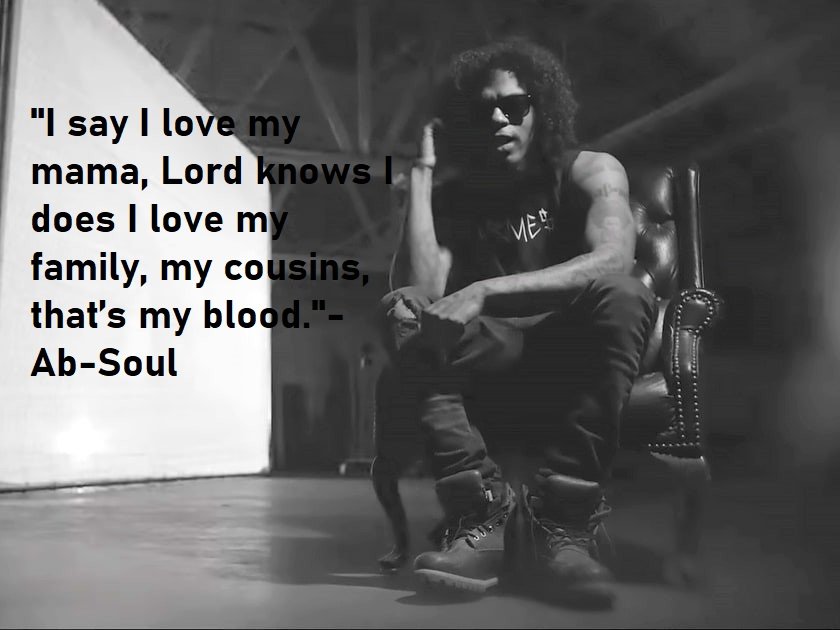 2."The universe bends to a still mind, peace be still."-Ab-Soul
3."I'm just a demon that means well. Freelance for God, but do the work of Satan."-Ab-Soul
4."We're all different and I respect my difference. I just try to be myself at all times. As long as I do that my music is always going to be different." -Ab-Soul
5."I say 'cuz' around Bloods, and I say 'blood' around Crips…I'm twisted."-Ab-Soul
6."Got Mary, got Lucy, got Molly: that's wifey, girlfriend and mistress."   -Ab-Soul
7."I try my best to be honest. A lot of the greats before me did the same and what you come to find out is that, when you have the opportunity to share your words with millions of people, you're not the only one who had that experience. That's the beauty in it."-Ab-Soul
8."I used to wanna rap like Jay-Z,
Now I feel I could run laps around Jay-Z,
Nas ain't seen nothing this nasty,
B.I.G. & Pac got it coming when I pass too."-Ab-Soul
9."You got the mic, I ain't the one you wanna pass to."-Ab-Soul
10."[Positive mental attitude] is a practice, you gotta practice. I practice being still." -Ab-Soul
11."I don't even really understand that concept of someone being 'smart' or someone else being 'smarter.' I think that except for the obvious special cases, we're all equal."  -Ab-Soul
12."Soul brother number 1+1
Gettin' fed like where drugs and guns come from."-Ab-Soul
13."These Days I'm feeling real good."-Ab-Soul
14."I like to practice being still and I feel like that promotes a lot of positivity."-Ab-Soul
15."There are a lot of people in this world that listen to wide ranges of music and there should never be a CERTAIN type of music that any artist should be confined to, in my opinion."   -Ab-Soul
16."My main concern is making the connection with my listeners and making records that the whole world can sing. That's what makes me happy."-Ab-Soul
17.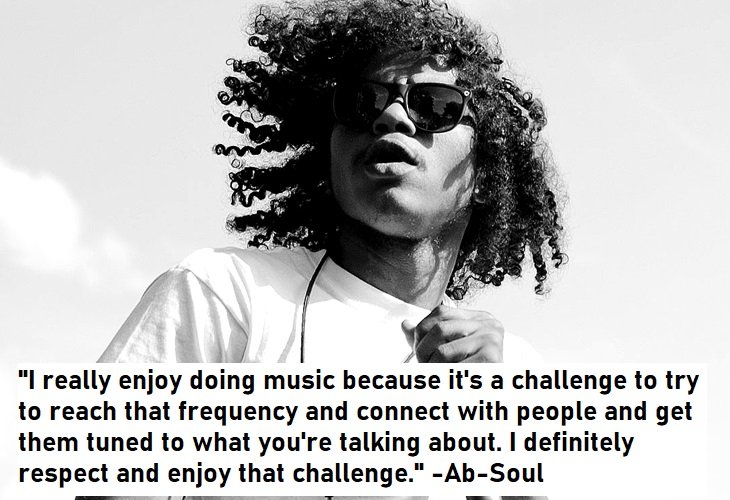 18."I think L.A. is L.A. I can go anywhere in the world and I'll just say I'm from L.A. But when I'm there I gotta say I'm from Carson." -Ab-Soul
19."I treat all my projects the same. They're all time capsules of where I am at the time and what I'm thinking about." -Ab-Soul
20."I've been thinking about that a lot too lately, These Days. I think it's becasue I grew up in retail, in costumer service. I grew up having to talk to everybody, having to sell to everybody so now that I can just sell me, it's fun. It's not even a sale, it's really just me being me."   -Ab-Soul
21."I dunno, around 11th grade, 12th grade I was just like "yeah. This is something I want to do". I was always known; I was always the rapper."-Ab-Soul
22."I've been to Vancouver every year for the last four years, since 2011 when I came out with Murs." -Ab-Soul
23."Everything is written in my mind, more so due to my lack of vision at this point. After years of vigorous writing, it was more of a challenge to do it without paper or sidekicks. I enjoy a good challenge."  -Ab-Soul
24."I'm just a fan of all music. My family owned a record shop so I grew up taking it all in on a daily basis. I'm not a person that needs to listen to just five good artists at one point. I love whatever is dope. We all can feel what's great."  -Ab-Soul
25."I'm not extra'd out. I got a cool little vinyl collection."  -Ab-Soul
26."Honestly I think it was gradual from the first time I came. It's been a gradual thing as far as audience and response wise. I feel like I was conditioned for this type of impact." -Ab-Soul
27."I wasn't really sold on being an artist until high school, my senior year. I was going to do the college thing originally."-Ab-Soul
28."I've been following battle rap for a long time. Me and Daylyt are real cool. We battled on my album, he's on my album. We did a one round battle on my album and that was just me capturing These Days."  -Ab-Soul
29."I feel like battle rap is as popular as it's ever been, today. With Total Slaughter it's getting real popular."   -Ab-Soul
30.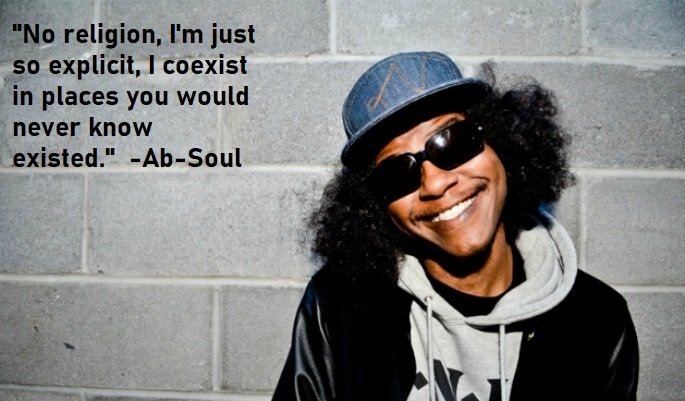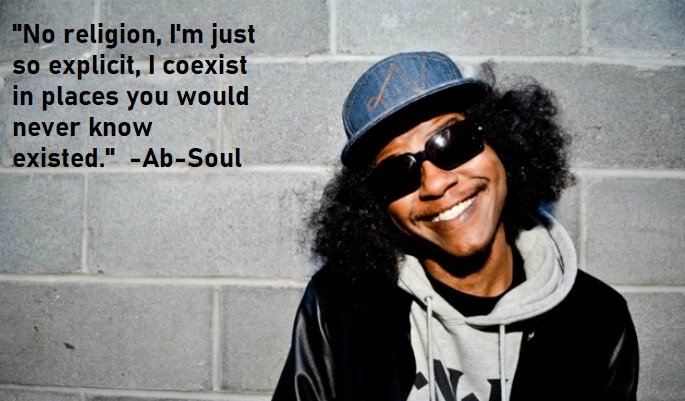 31."I got plenty. You can have all my light, my shine. I got plenty. All my boys here, we working being creative." -Ab-Soul
32."I'm like Donatello. For real. You probably want to come play your joints for me get my condolence."  -Ab-Soul
33."I'm really focused on These Days and I'm trying to take it as far as I can – I feel like it's a strong body of work. I just want to give it the ame kind of attention I give all my projects."   -Ab-Soul
34."People always known me for rappin'. So I guess that maybe just hindered me, like "oh well, I mid-as-well go long term with it."  -Ab-Soul
35."After me and Daylyt built that relationship, they had a battle in the area and we finally wanted to go see one, live. We was cool with just watching it for a while until me and Daylyt got cool and I really wanted to go see it live."   -Ab-Soul
36."106 & Park, Freestyle Friday, that was real pivotal. I feel like he has the right to do that, he comes from that era so he has the right to do that."-Ab-Soul
37."King Of The Dot is huge; battle rap is huge right now. My first battle that I went to was King Of The Dot – shout out to Lush One." -Ab-Soul
38."Me personally, I just wanted to do that to capture These Days.With DAY-lyt."-Ab-Soul
39."I have respect for the sport so I will contribute to the sport by encouraging artists ."  -Ab-Soul
40."Battle rap is a culture. That's boxing, it's like boxing."  -Ab-Soul
41."Not even battling but just really known for rapping. Like I had songs up on Soundclick first, take it back."-Ab-Soul
42."You had to look at it as sales, as costumer service. Costumer's alwasy right, you know? Service with a smile. Those type of things so it's just kinda in me. In my DNA."  -Ab-Soul
43."I think our Canadian fan base is large because it took us a while to get over here anyway, in the first place."-Ab-Soul
44.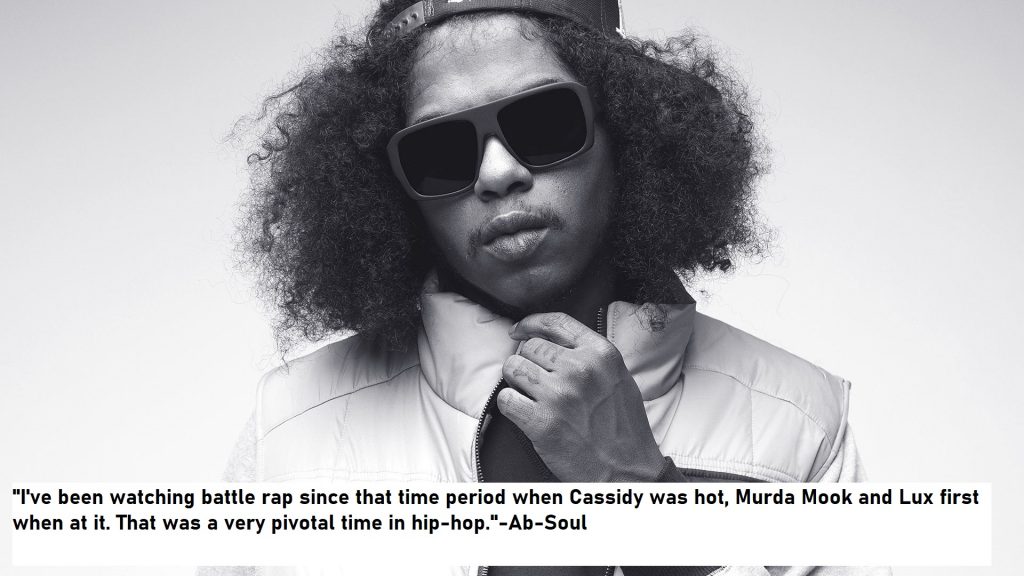 To fulfill all the dreams, Ab-Soul has to do a lot of work in his life. He has gone through a lot of struggles to become a popular rapper in the world. At the starting of his career, he was focused on his work and was giving all his full attention to his work.
Ab-Soul always tried his best. He works hard to take his songs as far as he can. Ab-Soul never takes a step back. He always does a lot of work. Ab-Soul always gives attention to all the projects. With his work, he has also inspired a lot of people.
"Vancouver is dope, everybody got across the border today."-Ab-Soul
If you want to do something in life, then you have to give your best in this work. Otherwise, you cannot get success. By reading the quotes of Ab-Soul, you will get inspiration and motivation in life. You will know how to make every work successful in life with the help of hard work. Do like, comment, and share these Ab-Soul quotes.