Living in the present moment quotes to empower you now! Dearest people, let us awaken to the power of now. Here is some of the best quotes about being in the present. These are inspirational words that have come from some of the greatest authors, enlightened spiritual leaders and renowned motivational teachers. What a feast of words that will help us to remember to be present.
These living in the present quotes are to remind us of the power of now. For when we let our minds wonder into the future, we miss the miracle of this moment. When we look into the future we cloud our minds with worry and when we look back we weigh our minds down with regret. The only time we live in is the present moment, it is now.
Drop the regret of the past or the good old days story, and let these quotes about being present bring you into full appreciation of the moment we all are living in right now which is the present.
Living In The Present Moment Quotes 1-11
"Forever is composed of nows."-― 
"What day is it?" asked Pooh.
"It's today," squeaked Piglet.
"My favorite day," said Pooh."
― 
"You must live in the present, launch yourself on every wave, find your eternity in each moment. Fools stand on their island of opportunities and look toward another land. There is no other land; there is no other life but this."― 

"You can't go back to how things were. How you thought they were. All you really have is…now."― 

"I, not events, have the power to make me happy or unhappy today. I can choose which it shall be. Yesterday is dead, tomorrow hasn't arrived yet. I have just one day, today, and I'm going to be happy in it."― 
"We're so busy watching out for what's just ahead of us that we don't take time to enjoy where we are."― 

"The only way to survive eternity is to be able to appreciate each moment."― 

"Realize deeply that the present moment is all you have. Make the NOW the primary focus of your life."― 
"If there's one thing I learned, it's that nobody is here forever. You have to live for the moment, each and every day . . . the here, the now."
― 

"If you want to conquer the anxiety of life, live in the moment, live in the breath."― 

"Live today. Not yesterday. Not tomorrow. Just today. Inhabit your moments. Don't rent them out to tomorrow. Do you know what you're doing when you spend a moment wondering how things are going to turn out with Perry?
Living In The Present Moment Quotes 12-21
You're cheating yourself out of today. Today is calling to you, trying to get your attention, but you're stuck on tomorrow, and today trickles away like water down a drain. You wake up the next morning and that today you wasted is gone forever. It's now yesterday. Some of those moments may have had wonderful things in store for you , but now you'll never know."― 

"Dance. Smile. Giggle. Marvel. TRUST. HOPE. LOVE. WISH. BELIEVE. Most of all, enjoy every moment of the journey, and appreciate where you are at this moment instead of always focusing on how far you have to go." ― 

"Learn from yesterday, live for today, look to tomorrow, rest this afternoon."― 
"All that is important is this one moment in movement. Make the moment important, vital, and worth living. Do not let it slip away unnoticed and unused."― 
"We spend precious hours fearing the inevitable. It would be wise to use that time adoring our families, cherishing our friends and living our lives." ― 

"Do not look back and grieve over the past, for it is gone; and do not be troubled about the future, for it has yet to come. Live in the present, and make it so beautiful that it will be worth remembering"― 

"I don't know who my grandfather was; I am much more concerned to know what his grandson will be."― 
"Leave the problems of God to God and karma to karma. Today you're here and nothing you do will change that. Today you are alive and here and honored and blessed with good fortune. Look at this suset, it's beautiful, neh? This sunset exists. Tomorrow does not exist. There is only now. Please look. It is so beautiful and it will never happen ever again, never, not this sunset, never in all infinity. Lose yourself in it, make yourself one with nature and do not worry about karma, yours, mine, or that of the village."― 

"Lost, yesterday, somewhere between sunrise and sunset, two golden hours, each set with sixty diamond minutes. No reward is offered for they are gone forever."― 
Living In The Present Moment Quotes 22-31
"a life is measured by moments like these" ― 
"Why do they not teach you that time is a finger snap and an eye blink, and that you should not allow a moment to pass you by without taking joyous, ecstatic note of it, not wasting a single moment of its swift, breakneck circuit?"― 

"Live today. Not yesterday. Not tomorrow. Just today. Inhabit your moments. Don't rent them out to tomorrow."― 

"No amount of guilt can change the past, and no amount of worrying can change the future."― 
"Instead of bracing yourself for the perils of the unknown, embrace the joy that is here, in your present moment."― 

"The present is a great treasure, live in the present."― 

"The point is to be in the moment, not miss the moment while trying to capture it."― 
"A life without regret can be attained by full awareness of one's actions in their present moment.― 
"Don't be the one who wakes up the next day regretting having not taken that last dance with a loved one or even with yourself."― 
"Let's LIVE the best fucking life we can before we are too old to remember it or too buried to come back to it!"― 
Living In The Present Moment Quotes 33-43
"This day, this hour, this minute, will not come around again in our entire life. Let us speak with love to everyone we meet and remind each other how beautiful we really are."― 
"Happiness lives inside of the smallest moments."― 
"Never worry about anything. Live in the present. Live now. Be happy." Marsilio Ficino
"Living consciously involves being genuine; it involves listening and responding to others honestly and openly; it involves being in the moment."― 
"Now is the only thing you can count on, Sam. It's all we really get," she said quietly, and felt that it was the truest thing she'd ever said."
― 
"Let's give ourselves right now. Tomorrow isn't here yet."― 
"We are always either remembering the past or looking forward to the future,Yet the only real place we stand that is real, is on the bridge of the now."― 
"Leave the past behind."― 
"Are you responding to the NOW or reacting to your past?" "― 
"Living in the moment, that's the first step to Having."― 

"There are only two days in the year that nothing can be done. One is called Yesterday and the other is called Tomorrow. Today is the right day to Love, Believe, Do and mostly Live."- Dalai Lama
Live In The Present Moment Video
Especially for you, here is a video from Mel Robbins which is all about telling us how to live in the moment. Enjoy!

Key Lessons from living in the present moment quotes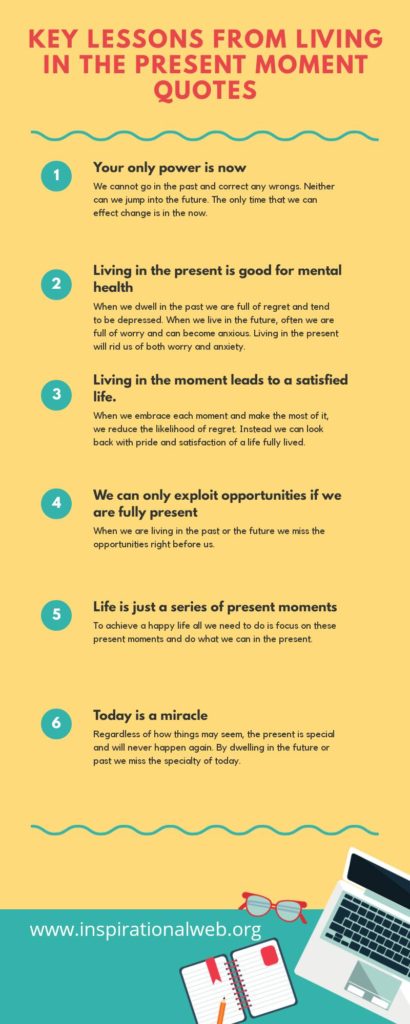 I hope you have learned something from these quotes about living in the moment. As Doctor Wayne Dyer says, "A great hallmark of mental wellness is the ability to be in the present moment, fully and with no thoughts of being elsewhere." Abraham Hicks teaches us that when we can get to feel good now then we have mastered the art of deliberate creation, because how we feel now is how we get to create our future.
So as you go about your day today, may you remember these living in the moment quotes. May you be free of worry, regret, anxiety but instead be filled with appreciation for the gift of today, the gift of this moment, your moment of power. Wishing you a joyous day. Please remember to share the inspiration, you may just turn someone's day for the better.