Ashton Kutcher Quotes – Christopher Ashton Kutcher is an American model, producer, actor, and a fine entrepreneur who begins his career portraying Michael Kelso in the Fox sitcom named 'That '70s Show' (1998 – 2006).
He debuted his film in a fine and famous romantic comedy Coming Soon (1999) along with a box office hit named Dude Where's My Car? (2000). After his initial successful stories, he then got himself indulged into Romanic comedies, appearing in that year's My Boss Daughter as well as Just Married.
In 2003, he created and produced the TV series named Punk'd that got the real height of fame. After his success stories, he keeps on going while subsequently appeared in more romantic comedy movies including A Lot Like Lover (2005), What Happens in Vegas (2008), No Strings Attached (2011), Guess Who (2005), Walden Schmidt on the CBS sitcom Two and a Half Men (20177 to 2005).
Famous Christopher Ashton Kutcher Quotes and Sayings
1.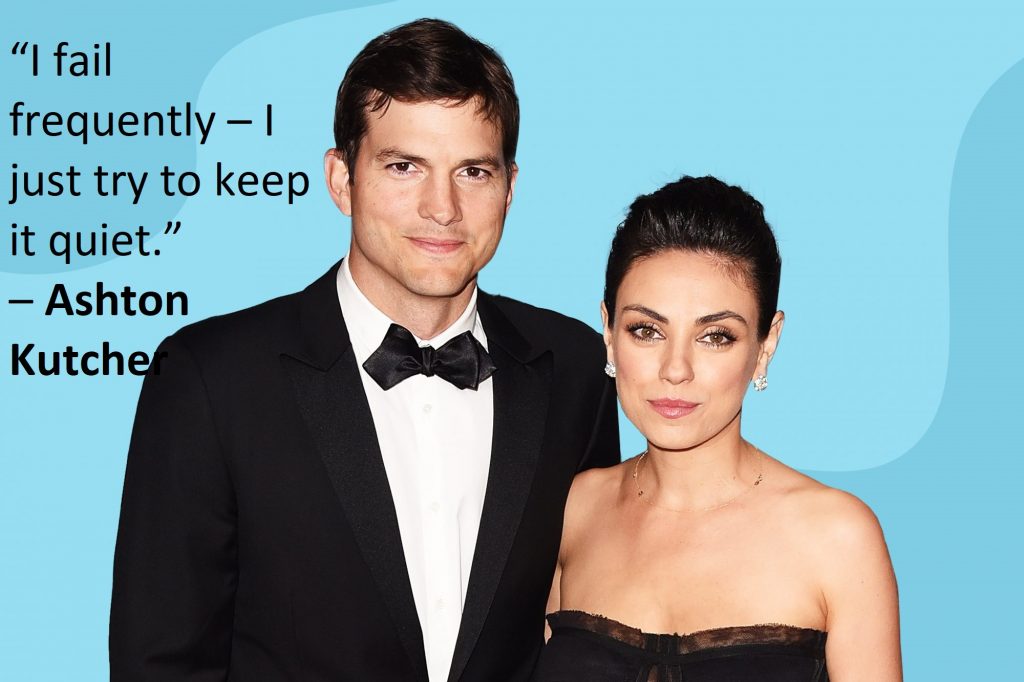 "There's something advantageous about having people underestimate your intellect, insomuch as a lot of things are revealed to you. They assume you don't know what you're talking about, then all of a sudden, you do. And the next thing you know, you have information you wouldn't normally have." – Ashton Kutcher
"The sexiest thing in the entire world is being really smart. And being thoughtful and being generous. Everything else is crap. I promise you. It's just crap that people try to sell to you to make you feel like less. So don't buy it. Be smart. Be thoughtful and be generous." – Ashton Kutcher
"True luxury is being able to own your time – to be able to take a walk, sit on your porch, read the paper, not take the call, not be compelled by obligation." – Ashton Kutcher
"The failures that we have are sometimes expensive educations." – Ashton Kutcher
"I really think that technology has the greatest potential to accelerate happiness of most things in the world. The companies that will ultimately do well are the companies that chase happiness. If you find a way to help people find love, or health or friendship, the dollar will chase that." – Ashton Kutcher
"I'm happy wherever I go, whatever I do. I'm happy in Iowa, I'm happy here in California." – Ashton Kutcher
"For me, the most entertaining evening would be to go sit with entrepreneurs and talk with them about how they're building their companies and how we can help to make them better. That's the one thing in the world – well, I love doing that." – Ashton Kutcher
"Leapfrog innovation – consistent, constant, ridiculous leapfrog innovation – only happens within a dictatorship. Any time you try to do something really innovative, most people aren't going to understand it until after they experience it. So when you're developing in innovation, you have to be a dictator." – Ashton Kutcher
"I believe that opportunity looks a lot like hard work." – Ashton Kutcher
"The truth is that I'm an idiot. I am. I don't do things by the rules sometimes. I say things that I probably shouldn't say. I push buttons. I deserve to be made fun of. And I feel like, as soon as you can make fun of something, it instantly removes the fear." – Ashton Kutcher
"I live my life like anybody else, and people choose to write about mine. And what they write I can't control – when they write lies at least – because the laws can't really protect you unless you can prove malicious intent. So I just choose not to read it." – Ashton Kutcher

"Always roll up the sleeves on your shirt. It gives the impression that you're working, even if you're not." – Ashton Kutcher
14.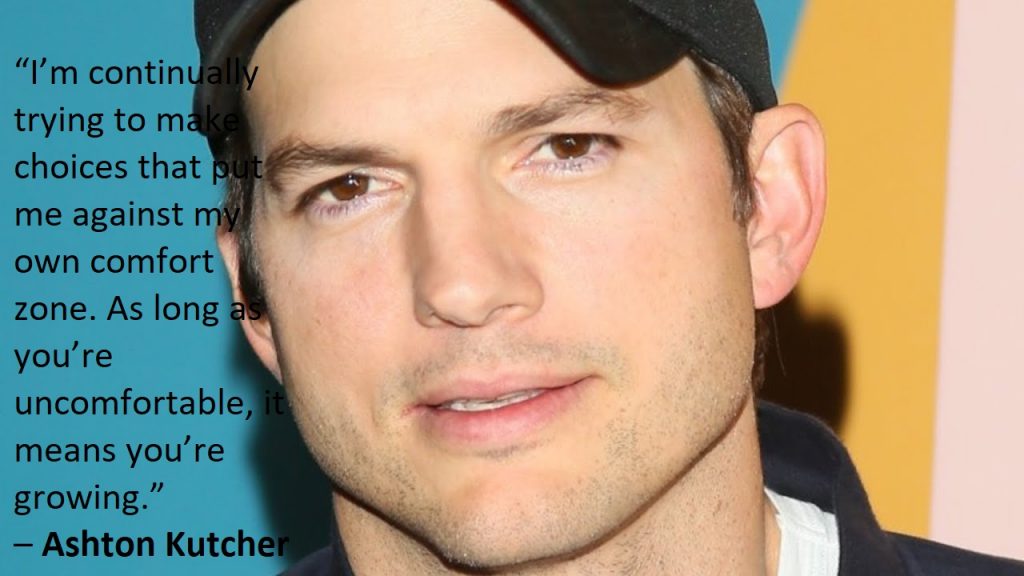 "Don't settle for what life gives you; make life better and build something." – Ashton Kutcher
"Anyone who wants to be an entrepreneur like someone else is actually looking in the wrong direction. You don't look out for inspiration, you look in. You have to ask yourself how can I be better today, at solving the problem I am trying to solve for my company. I wouldn't encourage anyone to be like me. Just be like you." – Ashton Kutcher
"I try to make good decisions as decisions come up." – Ashton Kutcher
"I think privacy is valuable. You don't have to share everything, and it's healthy to occasionally hit the pause button and ask yourself if you're oversharing. But at the end of the day, if you're not doing anything wrong, you don't have anything to hide." – Ashton Kutcher
"I don't believe that old cliche that good things come to those who wait. I think good things come to those who want something so bad they can't sit still." – Ashton Kutcher
"Life can be a lot broader… when you realize one simple thing: And that is that everything around us that we call life was made up by people who were no smarter than you. And you can build your own life that other people can live in. So build a life. Don't live one. Build one. Find your opportunity, and always be sexy." – Ashton Kutcher
"I've usually found that the greatest rewards in my life come from taking on things that are a little bit scary." – Ashton Kutcher
"There's no sense in making life seem like it's a struggle, because that doesn't make anybody feel better." – Ashton Kutcher
"I'll probably never be the best actor in Hollywood, but I hope to be the hardest working." – Ashton Kutcher
"I don't have to act for work anymore; I can act for passion. That's freeing, but it's also a prison of its own. When you can do anything you want, you're really responsible to do something great. And that's scary." – Ashton Kutcher
"I didn't come from the worst of situations, and I didn't come into the best of situations. But I've appreciated the best situations. And I've made the best of the worst situations. I'm lucky to be where I am." – Ashton Kutcher
"Anyone who has tried to build something that changes people's lives sometimes finds life to be a distraction, and finds people who don't care as much as they do to be annoying." – Ashton Kutcher
"I am only young once, who cares if I'm a goofball!" – Ashton Kutcher
"Take a long pause… breathe and know that things are happening for you not to you." – Ashton Kutcher
"If you believe the good stuff that people say then you have to believe the bad stuff and then you allow yourself to be on a roller coaster of what other people think. So I think you try to find the good in the bad and the bad in the good and balance yourself and stay on an even keel." – Ashton Kutcher
"Build a life. Don't live one!" – Ashton Kutcher

"Hope we can find space to be wrong in the pursuit of getting it right." – Ashton Kutcher
32.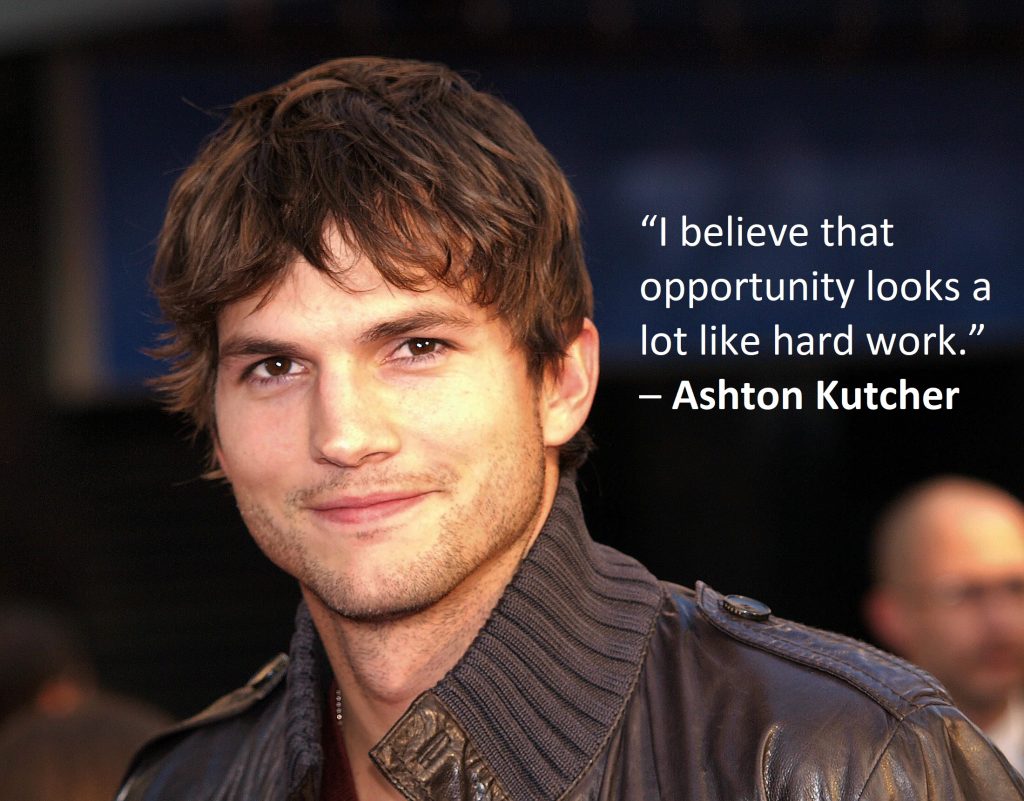 "The reality is that we communicate with every part of our being, and there are times when we must use it all. When someone needs us, he or she needs all of us. There's no text that can replace a loving touch when someone we love is hurting." – Ashton Kutcher
"You know, I think that romance sort of coincides with effort, so you can fall flat on your face, but as long as you're making a great effort, I think it comes off as romantic." – Ashton Kutcher
"I really think that you have to find a partner that compliments you and is somebody that pushes you and is better at some things than you are, so they can push you to improve yourself as a person." – Ashton Kutcher
"Vulnerability is the essence of romance. It's the art of being uncalculated, the willingness to look foolish, the courage to say, 'This is me, and I'm interested in you enough to show you my flaws with the hope that you may embrace me for all that I am but, more important, all that I am not.'" – Ashton Kutcher
"If you really want to make a relationship work, at some point in time, you're going to have to make some sacrifices and do some things that are a little bit uncomfortable." – Ashton Kutcher
"The goal is not to get into a relationship; the goal is to be in a relationship." – Ashton Kutcher
"Having someone to share not only the joy of life, but the pain of life… that's been sort of the biggest lesson of marriage. I can never get angry or upset with my partner because they're just a part of me." – Ashton Kutcher
"I think great relationships are great partnerships, and those come in all shapes, sizes, forms, ages. The only tip I have for anyone in a relationship or a partnership is work on it when it's good. It's very easy to try to take the break when things are going good, but that's the time you have to keep working on it, because you can keep it good, and that's worth a lot." – Ashton Kutcher
"I think directing yourself is a monumental task. Just to self edit as an actor, you work for some directors who don't give you a lot of feedback so you have to do that. That's a difficult thing to do as an actor." – Ashton Kutcher

"The sexiest thing in the entire world is being really smart. And being thoughtful. And being generous. Everything else is crap!" – Ashton Kutcher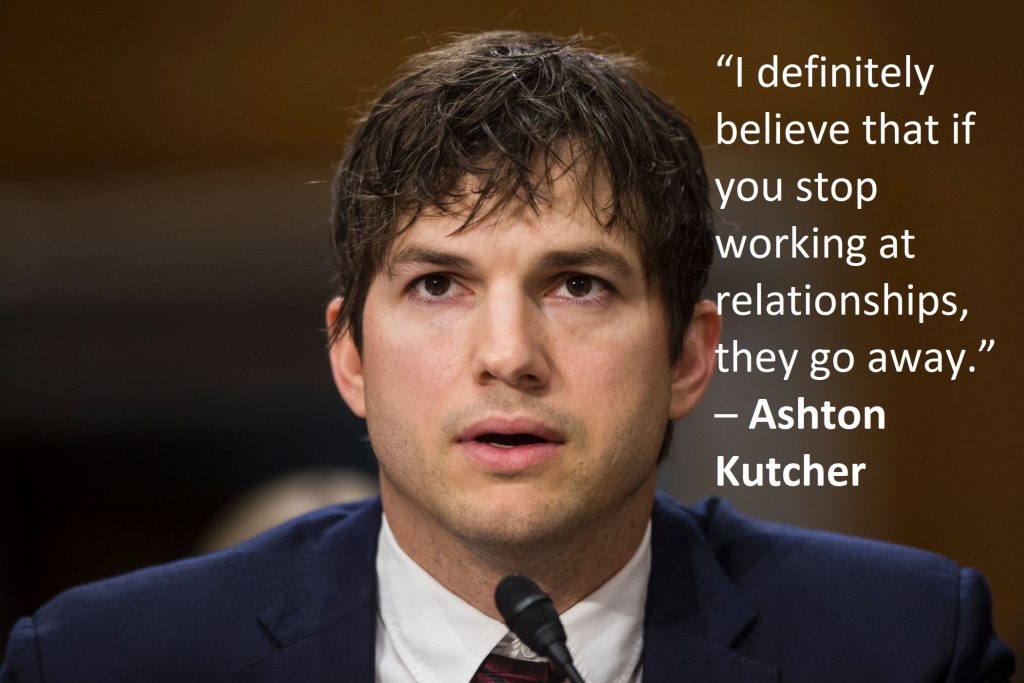 There are loads of Christopher Ashton Kutcher Quotes that help you get to know the real humor and peak of life in the best possible way. These are some amazing quotes that help you boost your motivation and bring positivity to life.
Kutcher also brings voiceovers while providing the voice of Elliot in Open Season (2006) as well. Despite making fun content he is also a venture capitalist and the co-founder of the venture capital firm A-Grade Investments.
"It takes a lot of energy to be funny… for me it does. I feel like I work twice as hard when I'm doing comedy." – Ashton Kutcher
AT SXSW 2015, he announced sound ventures, managing a fund backed by institutional funding (the successor to A-Grade investments). He has invested money in more than 60 companies, the most prominent of those include Foursquare, Skype, Path, Fab.com, Airbnb, and various others.
Christopher Ashton Kutcher has invested in five major and crucial startups as of August 2017 including Zenreach, Kopari Beauty, Neighborly, and Lemonade.