Chris Tomlin Quotes – Chris Tomlin is a famous American singer and songwriter. He is a contemporary Christian music singer. He is a member of Passion Conferences. Chris Tomlin first signed with the EMI six-step records.
He is well known due to his famous songs. These songs include How Great Is Our God, Whom Shall I Fear, and Our God. The cover song of this album is Good Good Father, which has also become very famous. For his work, he was awarded several awards. He won 23 GMA Dove Awards.
For his album in 2012, he was awarded a Grammy Award. And get two RIAA-certified platinum albums. Chris Tomlin has a wonderful journey. He inspires others with his work. For you, we have some famous Chris Tomlin Quotes.
Most Famous Chris Tomlin Quotes
1.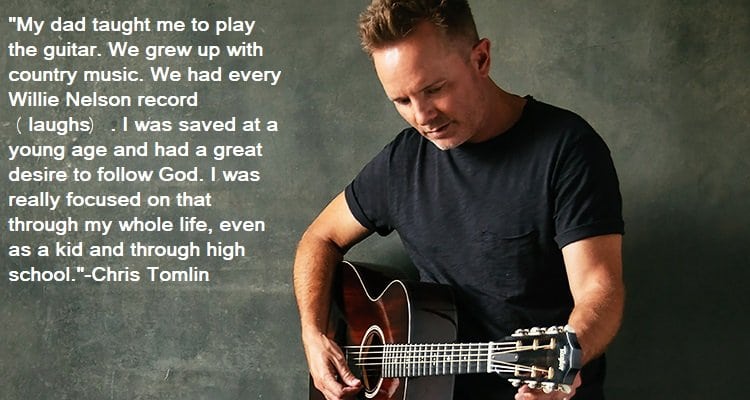 2."Don't chase accomplishments , people or positions to find your worth. You're already loved as you are by the Father."   -Chris Tomlin
3."Worship isn't a feeling you wait for, it's a choice you make."  -Chris Tomlin
4."Remember: In the end, you're not living to impress your friends or your relatives or your coworkers. All of life is for Jesus."  -Chris Tomlin
5."Isn't it interesting that in Acts 11, at the end of verse 26, it says, "The disciples were called Christians first at Antioch." What I find interesting is the simple thought that the Christians didn't name themselves. But rather, they were called (or named) "Christians" by those watching their lives. I wonder if it would be the same today. Could someone look at your life or look at my life and name me a Christian? A humbling thought for sure." -Chris Tomlin
6."Humility is the key characteristic of a worship leader. Actually, the key for any great leader."  -Chris Tomlin
7."I lift my hands to believe again. You are my refuge. You are my strength. As I pour out my heart, these things I remember, You are faithful, God, forever."-Chris Tomlin
8."My chains are gone I've been set free."-Chris Tomlin
9."My God, my Savior has ransomed me
And like a flood His mercy reigns
Unending love, amazing grace!"  -Chris Tomlin
10."True worship, worship in spirit and truth, has never been and will never be a trend."-Chris Tomlin
11." This style of music may be a trend, but that's because God's blowing a fresh Wind of His Spirit in so many people who are coming to realize that anything that just builds us up as people isn't worth much. What gives God the spotlight is important. And that's all we're about."  -Chris Tomlin
12."Worship comes from a thankful heart." -Chris Tomlin
13."Our God is Greater, Our God is Stronger, God, you are Higher than any other, Our God is Healer, Awesome in Power, Our God,Our God."  -Chris Tomlin
14."You lead me and keep me from falling. You carry me close to Your heart. And surely Your goodness and mercy will follow me."   -Chris Tomlin
15.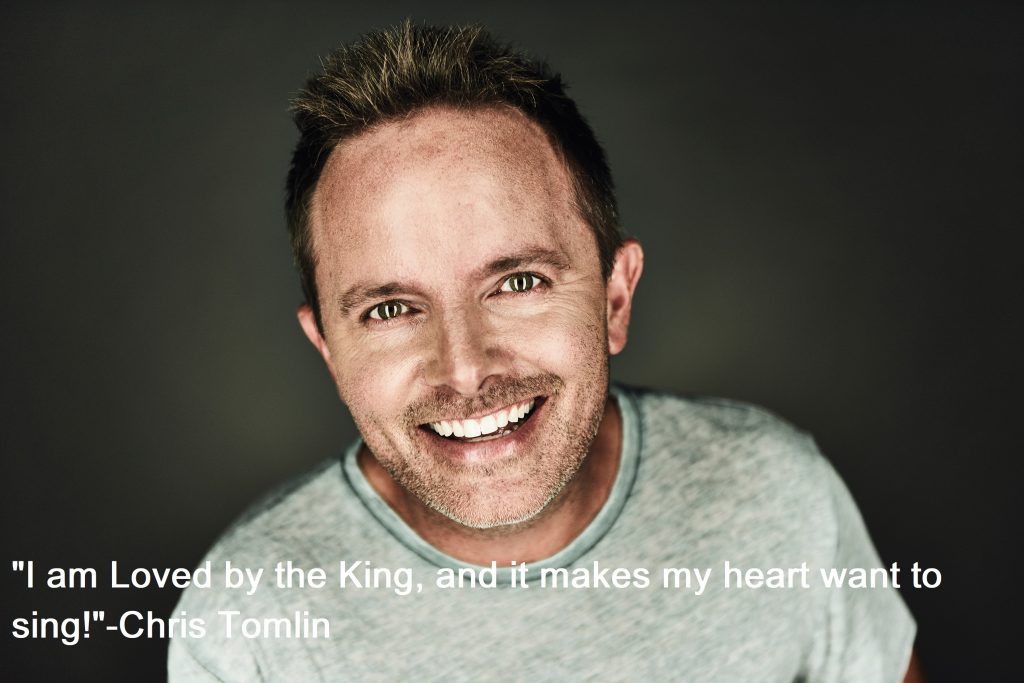 16."And If our God is for us, then who could ever stop us, and if our God is with us, then what can stand against?" -Chris Tomlin
17."When I write songs, I try to write in a way to reach as many people as I can, to be a lighthouse versus a flashlight." -Chris Tomlin
18."Music connects with the soul. I think it's the quickest art form to the soul."-Chris Tomlin
19."And nothing formed against me shall stand. You hold the whole world in Your hands. I'm holding onto Your promises. You are faithful. You are faithful. You are faithful. I know Who goes before me. I know Who stands behind. The God of angel armies is always by my side. The One who reigns forever, He is a Friend of mine. The God of angel armies Is always by my side." -Chris Tomlin
20."The worship leader God is after is the one whose heart is captured by Him."-Chris Tomlin
21."I remember being in church. We would do the live nativity in my little town and I remember pulling the sheep. I was the shepherd, so I was pulling the sheep around town, down Main Street. I thought that was the most awesome, coolest thing ever."   -Chris Tomlin
22."Could someone look at your life or look at my life and name me a Christian? A humbling thought for sure."  -Chris Tomlin
23."Jesus Messiah, name above all names, blessed Redeemer, Emmanuel, the rescue for sinners, the ransom from Heaven, Jesus Messiah, Lord of all." -Chris Tomlin
24."I think there are a lot of people that lead worship don't really understand the weight of what they do. But I think it is all about leadership. It's how you lead people into understanding what this is about. But also the wind of God, the fresh Spirit of God has been amazing, and that is what has caused people to turn their hearts towards it. Worship music is the most popular thing in Christian music." -Chris Tomlin
25."Could've come like a mighty storm. With all the strength of a hurricane. You could've come like a forest fire with the power of Heaven in Your flame. But You came like a winter snow, quiet and soft and slow. Falling from the sky in the night to the earth below."  -Chris Tomlin
26."I think that deep inside, all of humanity knows there's truth here, whether they want to admit it or not. There's a joy that comes in Christmas. There's a season of giving, so people feel this generosity."-Chris Tomlin
27."The band and I were leading at a Youth Specialties convention. We were asked to back up Matt Maher for one of the sessions.'-Chris Tomlin
28."Matt handed us the chord charts and, with less than 5 minutes of practice, we were playing it live. I fell in love with this song immediately. You can't hear the message of God's sufficient grace too many times."-Chris Tomlin
29."Matt is a great lead worshiper and is a part of Life Teen, a growing worship movement in the Catholic Church."-Chris Tomlin
30."I played at my church every once in a while, but that's not a good gauge, because everybody loves you at your church." -Chris Tomlin
31.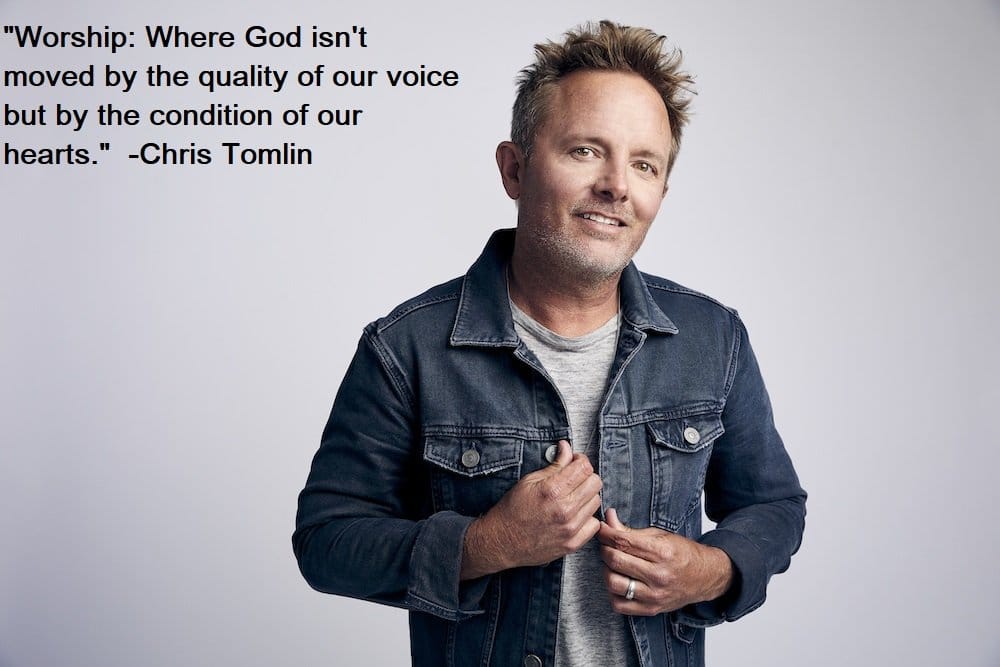 Life is a mixture of happiness and sadness in life. When we get sad, then we start complaining. Without even realizing that we have many things in our life. Those things that God has given us more than our expectations.
When we are happy, we enjoy it with our friends. At that time, do worship of God. Worship is another way to say thank you to God for all the things that He has given us.
"I absolutely love everything about Christmas music."  -Chris Tomlin
No matter what the situation is, we have to worship God. The worship always comes from a thankful heart. Who always care for the things that happen in life. Chris Tomlin does a lot of hard work in his life.
He always worships God to thank Him for everything in life. By reading the quotes of Chris Tomlin, you might see the things in life from a different point of view.